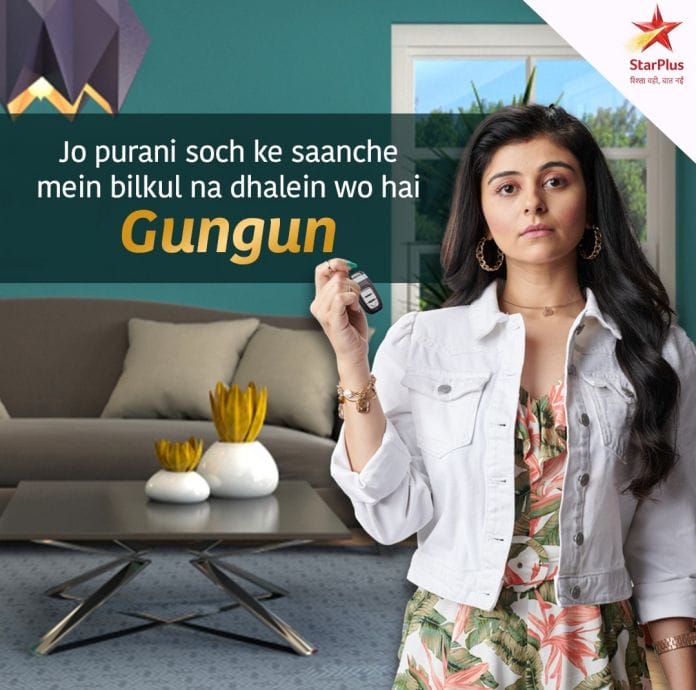 Kabhi Kabhie Ittefaq Sey 1st June 2022 Written Update on TellyExpress.com
The episode starts with Anubhav tells Gungun that she isn't understanding because the family will ask to either choose Gungun or his family. Golu tells if that situation happens then they will support them only. Gungun tells it's not only about family members it's about Akriti too. She further says Akriti is his legal wife so she may take legal action against him. Anubhav tells that he don't care about any of the consequences. Gungun tells in this his family will suffer a lot who have not done any mistake. She won't let them suffer for their mistake.
Golu tells them that they can discuss this in the hotel and asks Anubhav to take Gungun with him to the hotel also asks Ankit and Yug to tag along with them before Akriti arrives and creates a scene. Anubhav takes Gungun's hand but Gungun stops him and says to him she will go with him to the hotel under one condition that is Anubhav have to stay with Akriti after they reached the hotel. Anubhav refuses saying Golu and his gang is with Akriti but Gungun refuses and threatens to end their relationship. Anubhav and Golu gang gets shocked.
Golu urges them to leave the place and Anubhav takes Gungun with him. Ankit and Yug also leaves the place. Akriti comes there and confronts Golu about knowing Anubhav and Gungun's relationship already. Golu asks is she really think that he will let Anubhav do such things if he knows this already. Neeti supports Golu and says if Golu known this he would never let Anubhav do such things. Akriti questions then why did Ankit and Yug went with Anubhav and Gungun. She then tells that her own mother betrayed her by hiding all this so it's no use to blame others and shouts that she wont spare Gungun for ruining her life.
Golu asks Akriti to not yo create a scene they will talk after reaching the hotel. Neeti and Kushi also agrees with Golu. Ranvijay sees Gungun is exiting her car and going to the hotel without listening to Anubhav's please. He wonders what happened that lead them to fight these two. He thinks may be Akriti find out the truth and says if his assumption is true then he can't wait to make his move and smirks.
Anubhav Yug and Ankit follows Gungun. Gungun enters the room but refuses to let Gungun in. Anubhav pleads Gungun to let him in saying she knows he can't live without her. Yug and Ankit worries that Gungun may try to harm herself which scares Anubhav so he demands Gungun to open the door and threatens to break the door if she dont open it. Ranvijay sees Akriti also arrived to the hotel and says he can't wait to use this situation on his favor. Gungun packs Anubhav's things and opens the door. Yug and Ankit questions where she is going.
Gungun tells Anubhav have to go and stay with Akriti because that's the right thing to do. Anubhav refuses but Gungun locks the door inside and cries. Yug and Ankit pleads Anubhav to listen to Gungun's words. Akriti arrives there and bumps into Anubhav. She demands Anubhav where is Gungun and tries to go to her room but Anubhav stops her and asks her to talk to him and not to drag Gungun in this. Akriti asks Anubhav why did he ruined her life like this by having an affair with Gungun. Anubhav accuses Akriti and blames her for ruining his life. Akriti warns Anubhav.
Neeti and Kushi pleads Akriti to not to create a scene outside the hotel as everyone is seeing it. Akriti asks them will they remains calm if their husband does what Anubhav did to her. They both goes silent. Neeti tells Anubhav not even once she thought he would do such things and tells she is disappointed by him. Kushi says that she is ashamed to call him as her brother unlike how she proudly tells everyone that he is her brother. Akriti goes to Gungun's room and demands her to come out.
Gungun inside the room cries saying she knows this will come to an end but not even once thought the happiness will come to end this soon. Akriti asks Gungun to come out also demands Anubhav to make Gungun come out of her room because she wants to know why Gungun went behind her and had an affair with her husband.
Akriti calls Gungun a characterless woman and she has to get punished for what she did to her. Anubhav warns Akriti. Akriti badmouths about Gungun's upbringing and insults Ridesh. Gungun gets angry hearing it so she opens the door and warns Akriti to not to drag her father in any of this. She also tells that she will never come between her and Anubhav and asks her to take Anubhav with her.
Akriti once again starts calling Gungun by names for having an affair with her husband. Golu tells Akriti that Gungun is not at fault because the one who filled Gungun's hairline is none other than Anubhav shocking Akriti. Akriti asks why did he did this to her. Anubhav tells Akriti that he loves Gungun. Akriti asks him why did he married to her. She tells him that he took advantage of her goodness but now she won't spare him and threatens to go to the court.
Gungun gets shocked and pleads Akriti to not to do such things. She tells that she will leave Anubhav's life and never return. Neeti taunts Gungun saying she should have done it before though. Anubhav pleads Neeti to not to blame Gungun. Anubhav also asks Akriti to not yo drag Gungun in any of this. Akriti tells she wont only if he wipe off the vermilion which is on Gungun's forehead. Gungun tells that she accepted Anubhav as her husband by heart so wiping the vermilion will not change anything. Gungun then tells that she will not come between them if she promises not to ruin Anubhav's life and goes inside the room and cries.
Anubhav demands Gungun to open the door and tells her she dont have rights to take decision for both of them and says they will face Akriti legally. Neeti and Kushi tells Anubhav has to either choose his family or Gungun. Akriti tells Anubhav if he comes with her then she will not drag Gungun but if he chooses Gungun then she will make sure to ruin both of their lives and asks him to choose then leaves the place.
Precap: Gungun writes a letter for Anubhav and cries. Anubhav in his room cries sitting on the floor. Akriti tells Anubhav herafter she is the one who will decide what he has to do if he don't oblige then he has to face the consequences.
Click to read