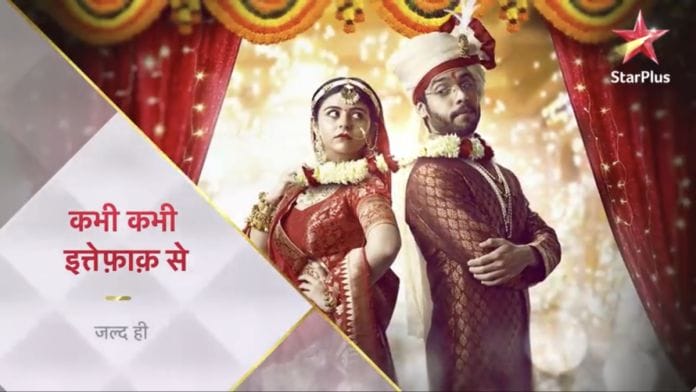 Kabhi Kabhie Ittefaq Sey Spoilers, Upcoming Story, Latest Gossip , Future Story, Latest News and Upcoming Twist on tellyexpress.com

The last week it was seen that Sargam and Sunada came to give Anubhav his favorite bessan laddu hoping it would help to pacify Anubhav who was upset because of Gungun. They found Gungun sleeping and started to taunt her for having time to sleep, but not having time for her husband and her family.
Gungun said that she rested a while as she had a terrible headache which they refused to believe. They gave her lecture about how to a good daughter-in-law and wife. Gungun got hurt with their words. Meanwhile on learning about Gungun's illness Armaan wanted to take her to America on the urgent bases for her treatment.
He sought the chairman's help to get Gungun's passport. The chairman was intrigued with Armaan's care for Gungun and questioned him about the same. Armaan refused to answer his question. Ahead Gungun invited the Kulshreshths for her success party organized by her office team.
The kulshreshths refused to attend her party and criticized her for having time to party, but not for her family and husband. Yet Gungun got determined to attend the party which irked the Kulshreshths.
However Anubhav came to Gungun's success party with Golu and his gang.
Armaan surprised Gungun by coming to the party. The chairman revealed that Armaan organized this party for Gungun. Gungun got glad hearing this and hugged Armaan. Anubhav and his gang looked unhappy seeing this. Armaan asked Gungun to dance stating it was their company's tradition.
He danced along with Gungun when she hesitated. Anubhav fumed in rage seeing this and left the party. Armaan told Gungun that he was aware of her major illness and insisted her to come along with him to America for her treatment.
Later Kulshreshths confronted Gungun about dancing with Armaan. Charudatt asked Gungun to resign her job and prohibited her from meeting Armaan. He asked Gungun to choose between her family and her job.
Gungun told the Kulshreshths that she was quitting her job as they wanted and added that hereafter she would be their puppet who would do whatever they want.
Armaan got Gungun's passport from the chairman to apply for her US visa. Gungun cames to the office to give her resignation, but on seeing Armaan, she decided to not give it in front of him. Armaan asked Gungun to come with him to America for her treatment as she would get better treatment there.
Gungun was worries about her family's disapproval. Armaan stated that her family didn't care about her, so she should also stop caring about them. He asked her to choose between her health and her family. Later Gungun requested her family to allow her to go to America with Armaan for her treatment.
Anubhav and Charudatt asked Gungun to divorce him before going. They accused Armaan of taking advantage of Gungun and they accused her of letting Armaan taking advantage of her.
Gungun argued with them defending herself and Armaan. She then revealed about her illnesss. Yet Anubhav and the family demanded Gungun to get her treatment done in India which stunned Gungun.

Kulshreshths proposed Gungun to do her treatment in a hospital in Mumbai and made all the necessary arrangements for that. Just then Gungun received Armaan's call and the latter said that he had booked their flight tickets and had gotten appointment in the hospital.
Gungun told the family that she wanted to go to America for her treatment. Anubhav got angry and started arguing with Gungun over her decision of getting her treatment in America intead India. He accused Gungun's of wanting to enjoy with Armaan in America on the pretext of her treatment.
Gungun slapped Anubhav for questioning her character. She gave him her medical reports to cross check it. Golu phoned Gungun's doctor and enquired about Gungun's heath condition and the hospital where she should get treated. Anubhav and his family got shocked when doctor said that Gungun was in critical condition and she needed to be treated in abroad.

Anubhav felt guily for misunderstanding Gungun and apologized to Gungun. Gungun expressed her disappointment about Anubhav not taking stand for her when Charudatt asked her to give him divorce. Anubhav assured to be on her side and wanted to accompany Gungun to America for her treatment.
But Gungun refused as Anubhav had to participate in international competition the next month for which he had been preparing since two years. Later Armaan arrived at the Kulshreshths to convince Gungun's family to allow her to go to America with him for the treatment.
Charudatt asked Gungun's decision. Gungun said that she wanted to get treated in America. Charudatt agreed to Gungun's decision, but he refused to send Gungun with Armaan and wanted Anubhav to go with her.
Anubhav was also ready to accompany Gungun sacrificing his dream. But Gungun refused and chose to with Armaan over Anubhav which shocked the family.
Charudatt asked Gungun to divorce Anubhav before that. Gungun who have anticipated this moment handed Anubhav the signed divorce papers and left with Armaan for America.

After two tears years leap Anbhav got an international award for his innovation on the micro robotic surgery. His family was elated learning this and celebrated. But Anubhav was sad missing Gungun. Gungun who had returned from America after defeating her illness successfully, got welcomed by her office team.
Both in their respective place gave their interview about their achievement. Later both visited an orphanage they were sponsoring. Gungun and Anubhav were surprised to see each other there. They got emotion and hugged. Kabhi Kabhi Ittefaq Sey ended on a happy note with Anubhav and Gungun's reunion.
Stay tuned to this space for exclusive update of your favorite shows.