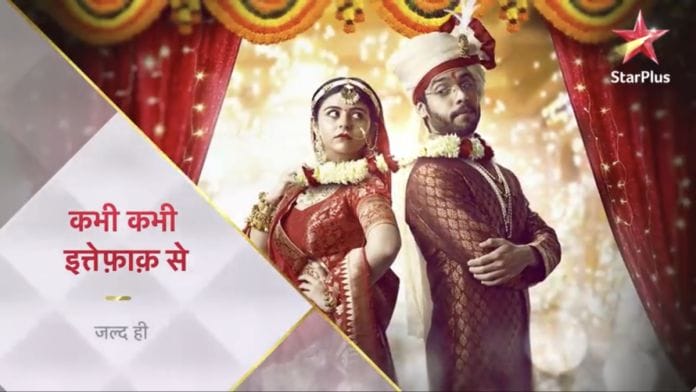 Kabhi Kabhie Ittefaq Sey Spoilers, Upcoming Story, Latest Gossip , Future Story, Latest News and Upcoming Twist on tellyexpress.com
This week Kabhi Kabhie Ittefaq Sey episode starts with that the dean asks Anubhav how could he marry two girls in a day and asks whether Akriti know about this or not. Anubhav says that Akriti doesn't know also he feels trapped so he is planning to accept job offer in abroad but the dean reminds him how this very idea he disliked the most. She advices him and decides to help him by transferring Akriti Akriti another department. Akriti gets angry seeing the vermilion which doesn't belongs to her is on Anubhav's shirt she determines to expose Anubhav. Anubhav pleads Gungun to not to leave also confesses his feelings to her but Gungun refuses to acknowledge it and decides to leave. Maya returns shocking Gungun.
Maya questions Anubhav for visiting Gungun also accuses him for trying to take advantage of Gungun's emotionally unstable state to take Ridesh's wealth but Anubhav refuses and tells Gungun that he will fulfill the promise he made to her and leaves after Gungun asks him not to meet her ever. The Kulshreshth's gets shocked about the decision to change Akriti to another department. Akriti wonders the reason behind dean's decision. Anubhav comes home and lies to the family members that he is returning from the institute only. Maya calls Akriti to invite her for 13th day ritual of Ridesh. She also tells her about Anubhav's visit to Gungun. Akriti confronts Anubhav and the Kulshreshth's gets upset with him.
Gungun refuses to sell the house saying its filled with Ridesh's memory but she decides to leave the house for Anubhav's well being. Akriti confront Anubhav about the vermilion stain on his shirt. The latter tells he doesn't know also asks her to be stop being insecure because Gungun is going to U.S. The next day Maya questions Gungun the reason behind her decision to go to U.S. Gungun recalls Ranvijay's threat and tells due to some personal reason. Maya tells Gungun that she don't have any problem if Ranvijay is her husband but Gungun warns her not to take his name anymore. Akriti persuades Anubhav to go with her to Ridesh's funeral ceremony the next day. Anubhav agrees. He also agrees to take Charu with him when Charu says him he wants to attend it. Golu and Yug questions Anubhav about Gungun's decision to go to USA.
Anubhav meets Gungun and asks her to meet him in the evening. He gets happy when Gungun agrees. He also lies to Akriti that he has so much work. Akriti decides to go with the Kulshreshth's women to dinner. Maya and Gungun gets into an argument when Gungun wonders which outfit she has to wear to when she goes to meet Anubhav. Gungun warns Maya. Kulshreshth's women persuades Goli to join them in their dinner plan. Goli gives in and goes to get ready. Anubhav goes to the restaurant and orders all the best food in there. Gungun comes there and asks Anubhav the reason behind him asking her to meet him. Anubhav asks Gungun is she really think that she has to go to USA also tells her he is here for her but Gungun advices him not to spoil his marriage life with Akriti by running behind her. She then gets angry at Anubhav so decides to leave. She also tells that she wants to die but Anubhav threatens to kill himself shocking Gungun.
Akriti and Kulshreshth's women see Anubhav in the restaurant. The latter refuses to join them which makes Akriti upset who shouts at the Kulshreshth's women shocking them. The next day Kulshreshth's comes to attend Ridesh's funeral ceremony. Maya insults the Kulshreshth's again shocking Gungun and Anubhav. Kulshreshth's but Gungun asks her not to create a scene. The priest asks someone to sit on the puja but Maya refuses saying she is allergic to smoke and Gungun tells the priest Ridesh neither have a son nor son in law but Akriti says that Gungun is lying and asks her to reveal her husband's identity. Maya also demands the same but Gungun refuses and does the puja. After the puja Akriti tells Gungun that she and Anubhav is going to Switzerland for their honeymoon. Anubhav denies it but Gungun misunderstands Anubhav.
Ranvijay comes to Ridesh's funeral and threatens Gungun. He also makes an announcement of his wedding with Gungun. Maya and Akriti gets happy. Ridesh's friend looks confused and looks at Anubhav but the latter refuses to meet his eyes and leaves the house. Later Gungun asks Maya to stop planning her wedding with Ranvijay because he don't like him shocking Maya. Gungun says to Maya that she wont marry Ranvijay which lead Maya to call Ranvijay to stop him from bringing his parents to talk about this marriage arrangements but Ranvijay assures Maya then threatens Gungun to ruin Anubhav's life along with Ridesh's reputation. Gungun cries. Akriti tries to get closer to Anubhav but the latter avoids her which upsets Akriti. She then talks about Ranvijay and Gungun's marriage announcement. Anubhav makes an excuse and leaves the room.
Anubhav calls Gungun and lashes out at her for trapping him. Gungun gets hurt by Anubhav's accusation. They both refuses to believe the other person's word. Anubhav tells Gungun that she wants attention that's why she is playing this victim card. Gungun gets hurt and says to Anubhav he will regret his words when he learns the truth. Gungun cries hugging her father's photo. She says that she is doing all this to protect Anubhav. Later Ranvijay and his parents comes to the Bhatnagar's house. Ranvijay's mother assures Gungun to take proper care of her. Gungun remains silent.
In the next week viewers will get to see that Gungun will enter Kulshreshth's house with her belongings and tell them that they all are interested to learn about her husband's identity which she will reveal it. She will ask Anubhav why he is stopping her now to reveal the truth and tell him that she realised his love for her. Akriti will get angry and say to Gungun neither she have place in Anubhav's life nor in Kulshreshth's house. Gungun will ask Akriti to not to interfere in this conversation especially when the first wife is talking which will shock the Kulshreshth's.
To know more about what's happening in Your favorite show Kabhi Kabhie Ittefaq Sey keep checking this space.