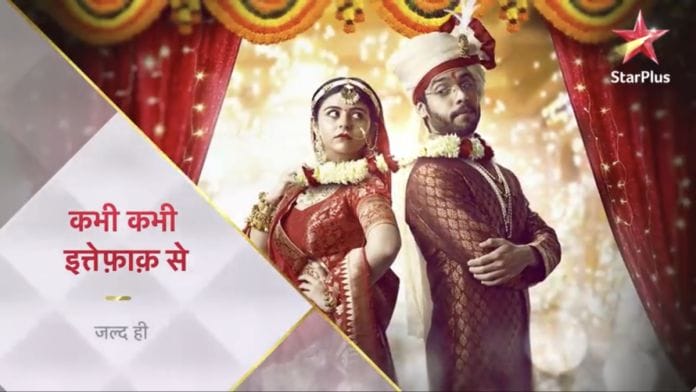 Kabhi Kabhie Ittefaq Sey Spoilers, Upcoming Story, Latest Gossip , Future Story, Latest News and Upcoming Twist on tellyexpress.com

The last week it was seen that Pradyush arrived at the Kulshreshths seeking a chance to talk to Goli and clear all the misunderstandings. Akriti lashes out at Pradyush. But Charudatt allowed Pradyush to talk to Goli. Goli lashed out at Pradyush stating that he got married and has a child. Pradyush denied it.
Goli showed the picture of Pradyush with a lady and a child and said that they're his wife and his daughter. Pradyush explained that they were his best friend, who died due to cancer, wife and daughter.
He told that he promised his friend to look after his family before dying. Kulshreshths were shocked to learn this.

Meanwhile in Mumbai Gungun surprised Anubhav throwing his birthday party. Ranvijay's man mixed poison in juice and asked a waiter to give it to Anubhav. But Anubhav offered that juice to a student called Ravi, who helped Gungun to save him.
Ravi fainted after drinking the juice shocking all. Here Pradyush sought Goli a chance to rectify his mistake and proposed her for marriage. Goli rejected his proposal.
Elsewhere Armaan, the chief editor of Jeet network, learned about Gungun's brave story of saving Anubhav from the terrorists and wished to get her interview for his magazine. He called Gungun for the same. Gungun rejected to give interview.

Later Anubhav and Gungun realized that the murder attempt happened on Anubhav when the commissioner said that the poisoned juice was meant for Anubhav. Gungun got worried about Anubhav's safety.
Commissioner assured Gungun to give police protection for Anubhav. At the Kulshreshths Akriti complained to Goli about Anubhav being with Gungun. Charudatt asked to call Anubhav to confirm the same.
Akriti called Anubhav and he lied that Gungun wasn't with him. Akriti showed the picture of Anubhav and Gungun to Goli and decided to go to Mumbai to catch Anubhav and Gungun red handed.

Anubhav got a call from the inspector asking him to come to the police station early morning. On knowing this Gungun decided to go along with Anubhav. Anubhav and Gungun decided to attend the haldi ceremony of Prakash after the interrogation.
Other hand at the Jeet network Armaan scolded his staff for not following up Gungun. He got determined to get her interview and decided to go to Mumbai for the same. Meanwhile Goli and Pradyush shared an auto.
Pradyush requested Goli to meet him alone to talk. She refused. He pleads with her and suggested going to the coffee shop that they wanted to visit. Goli agreed with hesitation.

At the café, Pradyush requested Goli to have a new start. However Goli stood firm on her decision and rejected his proposal. Other hand Anubhav and Gungun attended Prakash's haldi ceremony and enjoyed. Armaan arrived there.
He told Gungun that he was the same person who called her for interview. He got recognized by the guests. He explained his reason for his arrival. Anubhav convinced Gungun to give interview. Armaan offered a cheque seven lakh for her interview.
Gungun gave that cheque to Prakash's mother so that all the ladies together could start their own business. Armaan got impressed with Gungun.

Other hand Akriti reached hotel and fought with the receptionist asking for Anubhav's room key. The manager asked her to call Anubhav to get his permission. Akriti fumed in anger when Anubhav didn't answer her call. Here Armaan and Gungun argued over the institution of marriage.
He offered Gungun to book a flight ticket for Lucknow and to send an assistant to bring Gungun to his office. Gungun refused. Anubhav clarified that this was Armaan's way to make sure that Gungun didn't run away with his money.
Armaan mocked Gungun for failing to understand this and added that it would be called a cheating if she would so. Gungun gave him an apt reply which reminded Armaan his mom's words. Pradyush uncle and aunt visited Kulshreshths and requested Goli to give Pradyush a chance. Goli agreed.

Akriti caught Anubhav and Gungun together when they returned to the hotel along with Golu and Ankit. Akriti lashed out at Anubhav and Gungun for continuing their affair lying to her and his family. Akriti threatened to register a police complaint against them.
Anubhav said that they had only attended a wedding. Ankit helped them lying that Anubhav just met Gungun that day. Akriti denied it and showed Anubhav and Gungun's photo together as proof.
Akriti got mad when Gungun tried to calm her down and attacked Gungun with a vase. Gungun's head started bleeding worrying Anubhav. The latter shouted at Akriti for attempting to kill Gungun and threatened to register police complaint against Akriti for the same.
He said that Akriti didn't have proof for him cheating on her, but he had proof against her. Anubhav tried to take Gungun to his room. Akriti recorded their video. She said that she had proof now. She rebuked Anubhav and angrily left the hotel. Gungun convinced Anubhav to go and find Akriti.

Anubhav asked Ankit to look after Gungun and left alone in a taxi to find Akriti. The man who was spying on Anubhav informed his boss about Anubhav going alone. His boss ordered him to kill Anubhav. On his way Anubhav got Shankar's call.
The latter asks Anubhav about his daughter. Anubhav told him about Akriti leaving the hotel after their fight. Shankar understood that Akriti catched Anubhav with Gungun. He threatened to kill Anubhav and Gungun if anything happened to Akriti.
Anubhav notices a car following him and askd driver to accelerate. The other car stopped on seeing Anubhav's car getting hit by a big truck. Meanwhile Gungun waked up startled sensing Anubhav was in danger. She told the same to Golu and Ankit. She tried to call him many times, but his phone was unreachable.

Gungun phoned Commissioner and told about Anubhav's missing and sought his help. Meanwhile some people spotted the burning car and informed police about the accident. Gungun got stunned learning this and rushed to the spot. On her way Akriti called Gungun to know Anubhav's whereabouts.
She rebuked Gungun when the latter told about Anubhav's accident. Gungun along with Golu and Ankit reached the accident spot. Commissioner told that they only found driver's body and Anubhav's body was missing. Gungun got angry and said that Anubhav was alive.
Just then Akriti arrived there. She blamed Gungun for Anubhav's accident and asked police to arrest Gungun. Golu said that Akriti was responsible for the accident.

In the upcoming episode it will be shown that Golu will phone Kulshreshths and will inform about Anubhav's accident. They all will get shocked hearing this. Gungun will find the holy thread she tied around Anubhav's wrist on the ground and will cry.
Stay tuned to this space for exclusive update of your favorite shows.