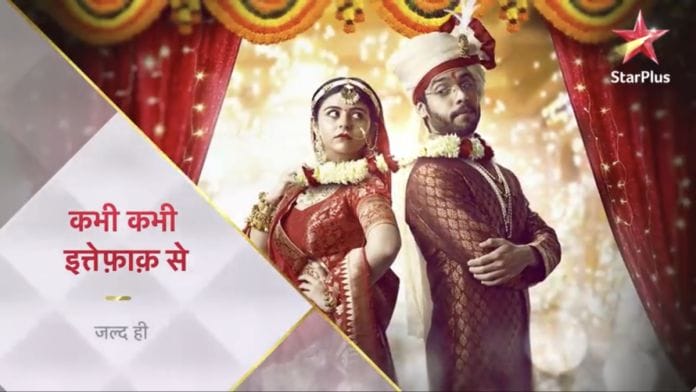 Kabhi Kabhie Ittefaq Sey Spoilers, Upcoming Story, Latest Gossip , Future Story, Latest News and Upcoming Twist on tellyexpress.com
The last week it was seen that Gungun and Anubhav spent quality time together. Akriti doubted Gungun was with Anubhav. She came to Garima with Shankar and urged Garima to make video call to Gungun. Anubhav sensed something wrong and asked Gungun to receive the call going apart. Gungun obliged. Akriti questioned Gungun where she was and why she got dressed up. Gungun lied that she was in her friends's birthday party. Akriti demanded to show the surrounding, but Gungun refused. Akriti doubt grew stronger. She got adamant to go to Mumbai. Golu and his gang decided to accompany Akriti to help Anubhav. They tried to inform Anubhav about the same, but the latter switched off his phone so that no one could distrub his moment with Gungun. Akriti and Golu gang reached Mumbai. Akriti got stubborn to stay in the same hotel where Anubhav stays despite Golu trying hard to convince her to not. Ranvijay also reached Mumbai with the plan to kidnap Anubhav.
Akriti heard Gungun's voice in the corridor and was certain that it was her voice. She decided to go to Anubhav's event to clear her doubt. Akriti and Golu gang reached the event venu. In the even Anubhav's wife was called to the stage. Both Gungun and Akriti got on the stage together shocking Anubhav and the family. Akriti declared that she is Anubhav's wife on the mike and asked Gungun to leave indirectly. Gungun left getting hurt. Anubhav went behind Gungun to convince her. Gungun threatened Anubhav to end their reaation and asked him to stay with Akriti. Akriti came there and created a scene and humiliated Gungun calling her characterless. Gungun locked herself in and cried. Akriti asked Anubhav to choose between going to Gungun's room and hers and warned him of the consequences if he would choose Gungun's room. Anubhav walked towards Akriti's room feeling helpless. Akriti threatened Anubhav to defame Gungun by telling to her journalist friend about what happened there. Anubhav requested her to not do so. Akriti demanded Anubhav to oblige to her words. Meanwhile Gungun decided to go away from Anubhav's life forever and wrote an emotional adieu letter in which she poured her heart out. She expressed her love for Anubhav and requested Anubhav to be happy with Akriti. Ranvijay reached the hotel with his men and searched for Anubhav and Gungun's room to execute his plan. Anubhav came to Gungun's room to talk while Akriti was sleeping, but Gungun refuses to open the door. A heartbroken Anubhav left the hotel taking his suitcase. Ranvijay and his his gang watched this.
Ranvijay kidnapped Anubhav and hands him to the terrorists in exchange of money. The terrorists took Anubhav to their place and demanded him to help them to make weapons for themselves. Anubhav refused to help them. They threaten him with gun. However Anubhav declared that he was ready to die, but refused to betray his country at any cost. Meanwhile Gungun sensed that Anubhav was in some trouble. She felt guilty of saying hurtful words to Anubhav. She tried to contact him, but in vain as Ranvijay had Anubhav's phone and he switched it off. Akriti argued with Gungun asking about Anubhav's whereabouts. Gungun said that she doesn't know. Kulshreshths reached home thinking that Anubhav left for Lucknow before them. They got worried knowing Anubhav hasn't reached home yet. Akriti revealed to the family about what happened in Mumbai. Bade papa got furious and wanted to punish Anubhav. Golu requested him to give Anubhav a chance to explain and blamed Akriti for Anubhav's disappearance. But Akriti accused Gungun of hiding Anubhav.
Other side Gungun is also worried for Anubhav. Akriti phoned the dean to know where Anubhav is. Dean said to Akritithat Anubhav is very sensitive, so Akriti shouldn't have created a scene in front of all. Meanwhile the terrorists asked Anubhav to help them to make weapons. Anubhav refused firmly. The terrorist showed Gungun's photo and threatened to harm her. Anubhav warned them to keep Gungun out of this matter. Anubhav tried to hit the terrorist when he badmouthed Gungun. The terrorist pointed gun at Anubhav. The leader stopped the terrorist. Gungun threatened the hotel manager to defame him if he would help her. The hotel manager agreed to take her to the police station and told her about the complication behind it. Gungun was ready to face any complications for Anubhav. The terrorist tried to bribe Anubhav to get the information they want to get from him but Anubhav stayed firm in his decision. Gungun reached the police station and told the inspector the matter.
In the upcoming week it will be shown that Anubhav's family will be worried about Anubhav. Akriti will taunt Anubhav stating that he has two wifes. The inspector will tell Gungun about the terrorist gang and they have kidnapped a scientist. Gungun will get worried for Anubhav's safety.
Stay tuned to this space for exclusive update of your favorite Hindi shows.