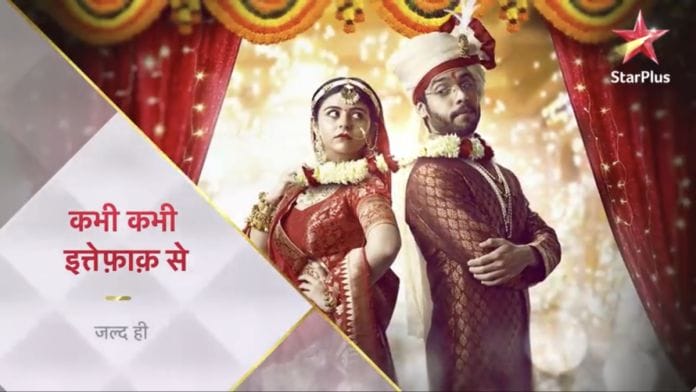 Kabhi Kabhie Ittefaq Sey Spoilers, Upcoming Story, Latest Gossip , Future Story, Latest News and Upcoming Twist on tellyexpress.com

The last week it was seen that Akriti called Anubhav and asked him to give her a second chance. Anubhav refused and rebuked her for insulting and hurting his family. She accused Anubhav of marrying Gungun without divorcing her.
Anubhav reminded her that she handed him the signed divorce to him in Mumbai. Shankar advised Akriti to use love instead of anger to get Anubhav. Akriti attended Anubhav's come back party. She apologized to Sunanda and Sargam.
Anubhav sang a song for Gungun. Later Armaan praised Gungun in front of Anubhav. Anubhav realized that Armaan likes Gungun. Anubhav told Gungun that Armaan has feelings for Gungun which surprised Gungun. Gungun denied it.

Gungun got surprised when she got promoted as the chief editor of Jeet Network. She got shocked when she learned that Armaan was going to join a foreign company. Later Armaan and Gungun went for a walk.
Gungun said that she used to be irresponsible a year before and she couldn't believe that she fell in love with Anubhav. Armaan wished that he could have meet Gungun one year before. Armaan invited Gungun for a dinner.
Later he says that he just joked. After Gungun left, he canceled the dinner table that he had booked for them. Gungun told Anubhav about her promotion and Armaan's decision. Gungun regretted of not being able to give a farewell to her best friend, Armaan.
Anubhav asked Gungun to go to the airport to send him off. He asked her to go alone when she asked him to accompany her.

Gungun surprised Armaan arriving at the airport with his favorite Lily flowers to give him a farewell. She asked him if he thought well before promoting her. Armaan can't hold back his feelings for her and told that she occupied all his thoughts.
He hid his emotions and said that she was the only deserving candidate for that post. Gungun held Armaan's hand when he was about to leave. She got emotional. Armaan bid her adieu. Anubhav phoned Gungun to know where she was.
Gungun said that she was on the way. Anubhav was surprised sensing that Gungun was crying. The story took a two years leap. Gungun became a busy business woman and Anubhav was disappointed with Gungun for prioritizing her work over him and the family and argued with her about the same.
Anubhav wished to have baby. But Gungun refused as she didn't want to compromise her career. She asked him to adopt a child. Anubhav refused and demanded to have their own baby. Gungun refused saying it wasn't possible for now.

Family reminded Gungun that today was Anubhav and her wedding anniversary. Charudatt advised Gungun to give time for her husband, family and herself. Gungun learned that she got nominated for a prestigious international award and got elated.
Anubhav taunted Gungun. Later Anubhav refused to attend Gungun's success party and spoke rudely with Gungun's higher officer. Gungun was feeling unwell and decided to visit doctor. Gungun phoned Anubhav to ask him to accompany her to the hospital.
Anubhav thought that Gungun was giving an excuse to not attend their anniversary party and refused. Gungun visited doctor and told about often having headache and blur vision.
Doctor told that Gungun might have a serious illness, so she suggested taking few tests. Gungun said to come the next day for the tests as she had to go home now.

Gungun phoned Charudatt. The latter scolded her for not returning home yet. Gungun said that she would reach home late and hanged the call. She paid a visit to Garima. She asked if Garima would feel sad if she got any serious illness.
Garima said to Gungun to not speak negatively on her wedding anniversary. On her way to home Gungun made a video call to Armaan and shared her sorrow with him. She told him about her doctor visit.
Later Gungun told Anubhav about her medical test and asked him to accompany her. But Anubhav refused and taunted her. The morning Sargam criticized Gungun when she refused to have breakfast.
Gungun clarified that she had to do some medical test and therefore she needed to leave empty stomach. Armaan phoned Gungun's doctor to enquire about Gungun's heath and said that he was coming to India the next day.

On knowing about Gungun being nominated for an international award, Anubhav's dean wanted to organize a party for Gungun and asked Anubhav about Gungun's availability.
Anubhav complained about Gungun not giving time for him or his family and not wanting to have child. Other hand the chairman invited Gungun to the party organized to celebrate her success.
He requested her to attend it for the person who had organized when she refused. Gungun asked if it was Anubhav. She got disappointed when the chairman nodded no. Gungun visited her doctor to collect her test reports. She got shattered when doctor said that she has brain tumor and needed to be operated immediately.

Meanwhile it was revealed Armaan was the person who organized the party and he was coming to India. The chairman told Armaan about Gungun refusal and her differences between Anubhav and Gungun.
Armaan got determined to celebrate Gungun's success even if her husband and her family weren't happy with her success. Anubhav met Akriti upon her request. Anubhav shared with her about his disappointments with Gungun. Akriti tried to manipulate Anubhav.

In the upcoming week it will be seen that Gungun will get surprised to see Armaan in the party organized for her achievement and the party was Armaan's plan. Gungun and Armaan will cut the cake and celebrate Gungun's success.
Armaan will say that it's their office tradition that the winner of the award should perform. Gungun and Armaan will dance. Anubhav will arrive at the party with a bouquet to congratulate Gungun. He will get jealous finding Gungun in Armaan arms.

Stay tuned to this space for exclusive update of your favorite shows.