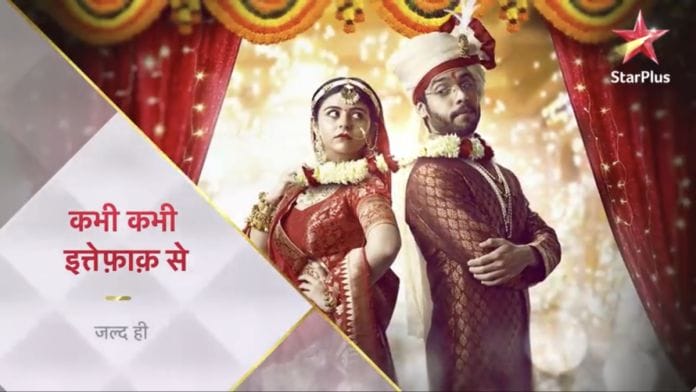 Kabhi Kabhie Ittefaq Sey Spoilers, Upcoming Story, Latest Gossip , Future Story, Latest News and Upcoming Twist on tellyexpress.com

The week began with Anubhav telling the dean that the guy with Gungun was the person who had kidnapped and handed him to the terrorists and Gungun was going to marry him despite knowing this. Dean said that Anubhav should stop Gungun from doing this mistake.
Anubhav said that she took her decision, so she wouldn't listen to anyone. Gungun was about to fall. Anubhav held her. Ranvijay taunted Anubhav for that. Later Golu, Ankit and Yug came to the ceremony and congratulated Gungun. Golu wanted to talk to Gungun, but the latter refused. Gungun acted rudely with them which stunned them.
Akiriti and Ranvijay fumed in anger when Gungun and Anubhav were honored as husband and wife and received award from each other's hand.
Later Gungun shocked all by announcing she was not Anubhav's wife. She said that Anubhav is her sister's husband; she was in Mumbai when he got kidnapped. She had to lie since no one was taking her serious. She requested to honor Akriti too. She called Akriti to the stage and made Akriti wear her medal. Charudatt was glad that Gungun fulfilled her promise whereas Golu and his gang were confused why Gungun lied.
Ranvijay parents visited Gungun and discussed about Gungun and Ranvijay's marriage. Gungun accepted their conditions despite Garima's disagreement and asked them to organize the wedding as soon as possible. Later Garima tried to talk sense into Gungun, but Gungun was determined to marry Ranvijay so that Anubhav could hate her and move on in his life. Other side Akriti was furious with Gungun's act. She created a scene accusing Gungun of doing drama to earn good name from all.
Garima met Anubhav and requested him to stop Gungun from marrying Ranvijay and save her life from getting spoiled. Anubhav refused stating that it was Gungun's own decision. Later Golu, Ankit and Yug tried to persuade Anubhav to talk to Gungun as she refused to talk to them. Anubhav revealed to them that Ranvijay kidnapped and handed him to the terrorists which shocked them.
Golu persuaded Anubhav to talk to Gungun regarding this. Anubhav called Gungun and asked her to meet him. Gungun refused and talked rudely to him. But at last she agreed when Anubhav requested her to meet him for a last time.
Anubhav and Gungun met in the café. Anubhav told Gungun Ranvijay's truth the latter was shocked hearing this. Anubhav requested Gungun to not marry Ranvijay. Gungun said that she had given words to someone that she would go away from Anubhav's life. Anubhav asked whom she had promised. Gungun refused to disclose it. Akriti came with her colleagues there. She fumed in rage spotting Anubhav with Gungun.
Akriti gete furious spotting Anubhav with Gungun. She lashed out at Anubhav for breaking his promise again. She rebuked Gungun for returning again and again in her and Anubhav's life. She raised her hand to slap Gungun, but Anubhav held it and clarified that he forced Gungun to meet him. Akriti got determined to put a full stop it to this and left.
Anubhav asked Gungun to not marry Ranvijay after knowing the truth and spoil her life. He asked her to whom she gave her words. Gungun refused to tell. Later family lashed out at Anubhav for meeting Gungun. Akriti shocked the family asking divorce from Anubhav. She left the house despite family trying to convince her. Meanwhile Gungun confronted Ranvijay about kidnapping and handing Anubhav to the terrorists. She called off the wedding. She slapped him when he was about to speak against Anubhav. Here Family asked Anubhav to convince Akriti and apologize to her, but he denied as he didn't accept that meeting Gungun was a mistake. Akriti phoned Ranvijay and asked to meet.
Golu said to Anubhav to give divorce to Akriti and marry Gungun. Other hand Nithi, Goli and Kushi convinced Akriti to give a last chance to Anubhav. Akriti met Ranvijay. She asked him to marry Gungun. Ranvijay lied that Gungun wanted to marry him to continue her affair with Anubhav secretly after their marriage. He added that this was Anubhav and Gungun's master plan. He said that the only solution to this problem was to kill Gungun. Akriti refused as she wanted to try to get Anubhav back by herself, if she failed, she would consider his plan. Akriti confronted Gungun. She threatened to register a police complaint against her if she didn't stop meeting Anubhav. Gungun gave her an apt reply and sent her away.
Later Anubhav told Akriti that he was not happy marrying her and declared his love for Gungun. Anubhav said that Gungun was his responsibility and refused to run away from this. He added that they could part their way if she had problem with this. Gungun phoned commissioner and sought his help to punish Anubhav's culprit. Commissioner ordered to reopen the case. Ranvijay's dad got to know this and told Ranvijay about the same. Ranvijay said to give him three days to sort it out. Here at the Kulshreshths Family was shocked and angry after knowing Anubhav's decision. Charudatt scolded Anubhav. But Anubhav declared his intense love for Gungun and said that he wanted to divorce Akriti as he didn't want to wrong Akriti. Just then he got a call from a man who pretended to be Mumbai police. He called Anubhav to come to Mumbai for his case's reopening. Anubhav decided to go to Mumbai despite his family's disapproval.
In the upcoming week it will be shown that Anubhav will call Gungun and will say that he is going to Mumbai as Mumbai police called him. Gungun will say that she's also involved in this case, so she will also come to Mumbai. Ranvijay will tell his man to kill Anubhav so that Gungun will die out of the sorrow.
Stay tuned to this space for exclusive update of your favorite shows.