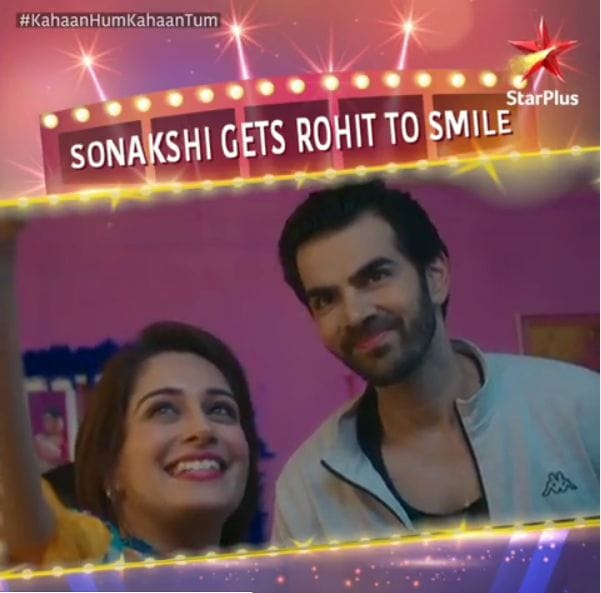 Kahaan Hum Kahaan Tum Written Update 20th June 2019:
Episode today starts with Netra. She gets a call from someone and says, he is calling means there is some problem. She says what happened Sumit?
Sumit complains to Netra that why in today's episode only Sonakshi's face was shown. He says he is not going to do shooting from tomorrow, he quits. Netra calls him again and make him understand.
Rohit ask Hari why you didn't kept water in his room. He gets shocked seeing operation room set up. He asks Simmi what you doing. Simmi says don't disturb her. He asked Tulsi what is going on. Who is the girl? Sonakshi turns back and asked Rohit to keep quiet as with the blessing of the God she has learned to take out the hearts. She says continue. Rohit wakes up saying Simmi stop her , Hari says she is Vimmi. Rohit ask Vimmi don't watch TV from now.
Rohit goes for the morning walk and sees Parvati. He heard ladies talking about Paravati's episode where she did operation of her husband. Rohit runs back to them and says why you are watching nonsense. Ladies ask who he is. Rohit says doesn't matter and suggest them not to watch TV. People gather around. Ladies says he is mental let's go. Rohit talks to himself and calls out for Ravi.
He asked Ravi to take him to the Meera road where the shooting is going on. Vimmi and Hari tells Rohit's dream to his grandmother.
At Sona house her mum says to someone that Sona is quiet busy these days. Rohit's brother say they want Sonakshi to inaugurate new operation ward of their hospital. Suman and YK discuss the charges. Suman says she will let them know.
Rohit comes to the shooting spot. His driver tells him that Sona still didn't come. Sona sees Sumit and goes away. Security tells Parvati's room way to Rohit.
Sonakshi is seen in green room. Rohit comes in. Sona greets him and say did he come here to take follow up. She says she is well and don't need it. Rohit tries to speak but Sona is not letting him to speak and takes selfie with him. She asks him to smile for the better selfie. Rohit says he wants to talk with her something important. Sona ask him to wait for few minutes.
Sumit complains about Sonakshi's attitude to Netra. Netra gets irritated hearing him. She asks him to calm down. Sumit says he respect her a lot. Sumit says he don't have much time and ask Netra to get ready Sona's dupe as he is not interested in shooting with Sona. He throws tantrums Netra looks at him.
Rohit waits for Sona. Netra comes and ask Sona to first do dubbing because Sumit don't want to shoot with her. She says he is jealous for her. Sona says someone is waiting for her to talk. Netra says he can wait finish dubbing then go.
Rohit ask for Sonakshi. He goes to meet her. Akshay shoots his scenes with BD. Rohit come in. Someone stops him saying take is going on he can't do. Rohit calls out loudly Parvati. He ask them to stop all the nonsense. Rohit vents out at Sona's BD. BD of Sona makes faces hearing him. Rohit ask Sonakshi to turn towards him as he is talking to her. Akshay ask Sona's BD to turn around. BD nods No and turns around. Rohit gets confused seeing him and ask who is he. He asks who he is. He said Bablu production team. He tells Rohit for today he is Sonakshi's BD.
Rohit ask what does it mean. He explains the meaning of BD to him. Sona ask Rohit why he is creating scene on set. Rohit says he is doing drama. He says they are fooling people with their fake dramas by using BD. Sona explains the Rohit about her work. Rohit leaves the place.
Sonakshi gets a call by Preeti. Rohit call for Ravi and hiraliously taunts him. He sees Sona's poster and talks to it. Someone makes video of him. He catches the man and asks him to delete the video.
Precape: Suman ask for money. Rohit furiously reply her he don't carry amount in pocket. Otherside, Sona hears someone's voice and gets shocked.