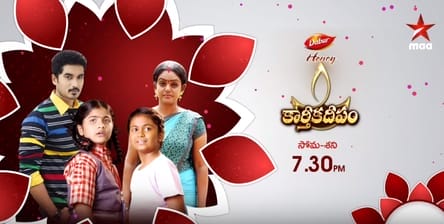 Karthika Deepam 10th August 2022 Written Update on TellyExpress.com
The episode starts with Swapna saying to Nirupam that he is looking good and puts Kaala tika on his cheek. Swapna asks where is Prem. Satya says Prem is at Soundarya's house. Swapna calls Nirupam's friends and calls everyone to the marriage. Swapna asks Nirupam to stand up to take a selfie. Swapna takes a selfie with Nirupam and Satya.
Hima cries and Soundarya asks her what happened. Anandrao also comes and asks about it. Hima gives her phone to Soundarya. Soundarya asks who sent this photo. Hima says Swapna sent it. Hima says everything is over. Sourya comes and asks what is going on and asks Hima to stop her crying. Soundarya shows the selfie that Swapna sent to Hima.
Sourya says that Marriage will not happen. Hima says she is not crying for herself but she is crying for her. Sourya asks her to stop her dramas. Hima asks if she will never believe her. Sourya says yes I will never believe you. Soundarya feels sad about them arguing about each other and tells them how she feels. Sourya says she will stop that marriage. Soundarya asks her how. Sourya says to come with her.
Shobha looks at herself in her phone and talks to herself. Shobha thinks all her wishes are coming true and no one can stop her. The Goon that she hired to kidnap Sourya falls near Shobha's feet. Shobha asks what is he doing here. Sourya calls for Swapna. Swapna asks what are they doing here. Soundarya slaps Swapna and says you are proud of your daughter in law right we are here to reveal some truth about her.
Soundarya asks Sourya to reveal the truth. The Goon tells everything that has happened. Swapna asks what if Shobha did it and still supports her. Swapna says she will not stop this marriage just because of this and still backs her up. Sourya claps for what Swapna said. Sourya says you hate everyone but you are showing your love for Shobha who is a nobody.
Shobha says nothing will happen according to her wish and asks Sourya and everyone to go away. Shobha taunts Sourya. The bank people come and reveal that Shobha has debt to us and when we asked how you are going to repay the debt you said you are going to marry a rich doctor but now it looks like the marriage is going to be cancelled. The bank people ask Shobha how is she going to repay the money. Swapna asks Shobha if this is real or not.
Soundarya and Anandrao convince Swapna that they are real. Shobha says not to trust them. Swapna slaps Shobha for still trying to lie to her. Shobha asks you are slapping you are about to be daughter in law. Swapna slaps her again and asks her to go away. Shobha leaves the house and before leaving Shobha warns Sourya this is not over. Swapna asks her to go away.
Swapna gives milk to Satya. Satya talks to Swapna about his habits changing and we changed. Swapna says it's her mistake. Swapna says because of her ego I hurt you and Mom and Dad a lot. Swapna says we should help in Hima and Nirupam's marriage. Satya says even if she doesn't believe he says he has no fault in Nitya's case. Swapna remembers what she said to Nirupam about that.
Episode ends
Precap – Nirupam will close Sourya's eyes and Sourya guesses it easily. Nirupam says thanks to her. But Sourya says I don't know know how you feel about saying thanks but when I hear it I feel troubled. Sourya says Nirupam to go and marry. I would like to be left alone.