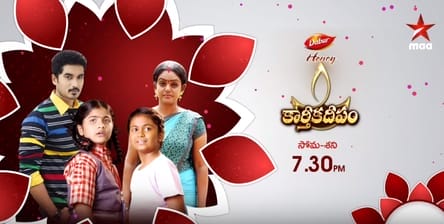 Karthika Deepam 10th January 2023 Written Update on TellyExpress.com
The episode starts with The thief pushing Hima and Sourya away and escaping from them. Karthik catches both Hima and Sourya. Hima and Sourya feel elated seeing Karthik. They hug Karthik. Hima asks Karthik where they went all these days. She tells Sourya I told you that they are here but you didn't believe me. Sourya asks Karthik why they didn't come to meet them even though they stays near them. She asks him where is their mom. Karthik thinks about how to answer them.
Hima says I called you seeing you guys but you didn't listen to me. Sourya asks if they are intentionally hiding from them. She asks what is their mistake. They ask him to take them to Deepa. Karthik asks them to leave and tells them he will bring Deepa to them. Sourya and Hima say they don't leave him and insist him to show them their mom. Karthik thinks about how to hide the truth. He takes Kids with him.
Soundarya holds Deepa's hand. Deepa asks if she is scared that she may leave if she leaves her. Soundarya says I feel it will be a dream. Deepa thinks I will be a dream which is going to leave the world soon. Soundarya asks her to take her to Karthik. Deepa says let's talk about the matter I wanted to tell you. Soundarya agrees. They come across Karthik and the kids. Kids hug Deepa and confront her about why she doesn't come back to them. Soundarya hugs her son. Hima asks Deepa to answer why they are staying far from him.
Soundarya also questions the same. Karthik says nothing happened, so leave for home with the kids and we can talk later. Soundarya says Deepa said the same and what you guys are hiding. Sourya says let's not leave them otherwise they will go far from us. Hima holds Karthik. Soundarya says they are feeling feared seeing their behavior and asks them to tell her what happened. Deepa says everything is fine.
Soundarya asks them to think from their place to understand their pain. Karthik says they will meet them later. Soundarya refuses to leave. Soundarya asks Karthik and Deepa to show the place where they are currently living. Soundarya asks Karthik and Deepa if they are again thinking of escaping from here. Soundarya says she will never allow it to happen. Soundarya asks Karthik and Deepa to show them.
Mounitha comes to Karthik's house and sees that the house is locked. Mounitha breaks the lock and goes inside. Mounitha feels hungry and sees if there is something to eat. Mounitha sees that she can prepare Dosa and eat it. Mounitha thinks if Deepa sees her like this then she might die with a heart attack.
Soundarya, Hima, and Sourya come with Karthik and Deepa to the house. Soundarya says to Karthik that they came here last time. Soundarya asks Karthik from when they were living here. Karthik says he was living from before she came with Anji here. Soundarya understands that Karthik is hiding from them the last time they came here. Karthik sees that the door is open. They go and see that the lock is broken and think thieves might be inside. The family goes and sees that Mounitha is inside. Mounitha says she broke the lock and came inside. Soundarya understands that Mounitha is the reason for Karthik and Deepa not meeting them. Soundarya questions Mounitha why did she do this? Mounitha asks Soundarya if Karthik and Deepa didn't tell her what happened.
Episode ends.
Precap -Soundarya thinks if what Mounitha said is the truth or if Karthik and Deepa are hiding something. Soundarya sees Karthik and Deepa signaling each other all the time. Soundarya decides to eavesdrop on them when they are talking to find out the truth. Karthik asks Deepa why did she take this kind of decision as they would have left without telling anyone. Soundarya eavesdrops on Karthik and Deepa talking. Deepa says to Karthik that it might be fate just like it is the fate for her to leave soon. Soundarya gets shocked hearing this.