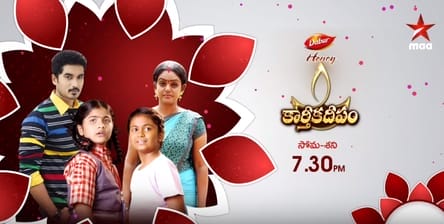 Karthika Deepam 11th August 2022 Written Update on TellyExpress.com
The episode starts with Satya saying to Swapna that he made no mistake in Nitya's matter. Satya says we have to just trust in some matters. Swapna says he trusts him.
Sourya thinks of Nirupam and Nirupam comes behind her back and closes her eyes. Sourya guesses correctly. Nirupam asks how did she guess. Nirupam asks if she saw him. Sourya says there is no expectations from them. Sourya says I thought that you would come to say thanks. Nirupam says sorry Sourya I forgot about it. Nirupam says thanks to her. Sourya says I don't know how you feel but it's hurting me. You are happy right go and enjoy and walks away from there.
Prem and Hima talk about how to stop the marriage. Hima says she can't think of any way to stop this marriage. Hima asks to him to think of a way to stop this marriage.
Swapna tries to talk to Sourya and Swapna asks Sourya to give her hand to put Mehandi. Hima and Nirupam talk about Swapna and Sourya. Swapna says to Hima look Hima I am trying to put Mehandi but Sourya is not letting me. Nirupam tries to convince her to no avail. Sourya says she doesn't want it and walks away.
Shobha thinks of what happened. The bank people come and ask her to sign the documents on which the bank people are going to seize her house and her hospital. Shobha says Sourya I will not leave you.
Sourya thinks to herself what happened. Soundarya asks what is she doing here alone. Sourya says it is her way. Soundarya asks what is her problem. Sourya says no matter how many are there I am alone. You are just not recognising the people around you. Sourya asks Soundarya when she left the house did she look for her. You never looked for me and when you knew that I am not Jwala but Sourya you are acting like you have love on me. This many years you did not make any effort to find me. Soundarya says how can you say that we don't love you.
Sourya in her childhood thinks of what happened and when she throws a rock in anger it hits a car and from it Soundarya gets down and calls for Sourya. Sourya asks not to come to her. Soundarya tries to convince her to come to the house to no avail. Sourya says she will not come to the house until Hima is in that house. Sourya says if she comes back to take her she will go away far away from here. Sourya says if she doesn't go back it is an oath on her. Soundarya says what she has to say to them.
Sourya says tell whatever you want to say to them. Soundarya goes back and brings some money to give Sourya. But she doesn't take the money.
Episode ends
Precap – Swapna will say that she brought a sarees to her two daughter in laws. Sourya asks did I say I have no sarees and asks you to buy them. Swapna says what is wrong in this. Some people are showing me pity and some people are showing me dramas if the marriage happened quickly I will leave this place.