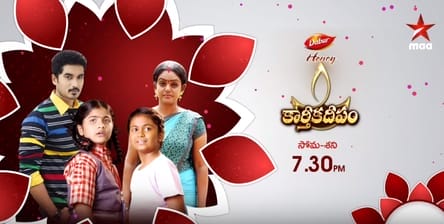 Karthika Deepam 11th July 2022 Written Update on TellyExpress.com
The episode starts with Hima asking Sourya to come into the house once. Sourya just goes away without listening to her. Hima talks to her parent's photos about what happened. Soundarya comes and asks what happened and why was she wet. Anandrao asks the same. Hima cries on Soundarya's shoulder. Hima says Sourya says she will not come no matter what I do. Hima says she came right to our doorstep but she doesn't come inside. Soundarya says we will talk to her later.
Shobha greets Jwala and asks her how she is. Shobha says she has something to talk about and takes her real name Sourya. Shobha says she knows something that she doesn't know and tells her. Jwala doesn't listen and walks away. Shobha stops her and reveals when Hima knew she is Sourya and that is in the blood donation camp. Shobha says she deceived you like this by not telling about her. Sourya asks if it's over.
Shobha says there is even a bigger secret when she knew you love Nirupam then she acted as she has cancer and she also shows her the reports to prove it. She told Nirupam she is not going to live for more than 2 months. She made Nirupam agree to marry her. Shobha describes how Hima betrayed her and asks her what is she going to do. Shobha asks if she is shocked and tells her to decide for herself. Shobha asks for thanks. Sourya slaps her on the face and says thank you. Jwala says not to go give her advice like this again.
Soundarya serves food to Hima but she thinks of Sourya and says
If Sourya knew the truth we should bring her here. Anandrao points out she doesn't want to come. Hima gives an example and goes to Sourya.
Jwala thinks of what Shobha said to her. Jwala thinks how could Tingri do this much. When she tries to get up she doesn't feel good and sleeps again.
Shobha thinks of how Sourya slapped her. She thinks she doesn't understand Sourya so she will tell Swapna aunty the truth that Hima doesn't have cancer.
Indrudu and Chandramma think of why she is not feeling well. Indrudu and Chandramma talk and decide they should take her to the hospital. Hima comes and sees Sourya. Chandramma says how is she. Chandramma says she has a high temperature and tells her to check it. Hima checks it and says she has a high fever.
Chandramma says why has gotten this fever. Indrudu doesn't let her and says they are blood related we shouldn't come in between them. Hima calls an ambulance to take Jwala. Jwala talks in her sleep that she was deceived. When Jwala wakes up she sees that she is not in her home and she sees Soundarya and Anandrao.
Episode ends.
Click to read: