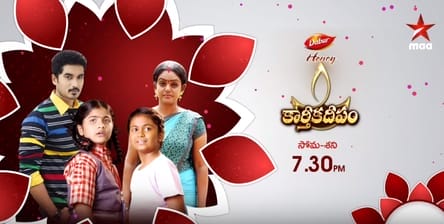 Karthika Deepam 12th August 2022 Written Update on TellyExpress.com
The episode starts with the Sourya in childhood is sitting lonely and Soundarya gets in her car and goes away. Soundarya asks now tell me didn't I find you and come to take you. Sourya says now I am also saying the same thing. I can't stand in the same place as Hima. Sourya says I can't stand her dramas all the time. Soundarya says from what point of view we look they will look that way. Hima comes and asks what is she talking about. Sourya says she is starting her dramas. Hima says she will do her marriage with Nirupam. Anandrao comes and asks Hima when we are getting with marriage preparations now you are still saying that you are going to marry Sourya with Nirupam. Sourya says see now you are also getting tired seeing this drama.
Swapna checks how the marriage preparations are going. Prem sees Hima in his phone and talks to her. Nirupam takes the phone from Prem and Prem tries to get back the phone from Nirupam. Nirupam says what are the secrets in the phone. Prem says there are no secrets. Satya says you should help your mother in this marriage. Nirupam says Prem is acting weird nowadays. Satya also says the same thing. Swapna asks about it. Prem says there is nothing like that.
While they are eating food. Sourya says stop looking at me and eat your food to Hima. Soundarya asks can't you stay normal even while eating food. Sourya I want to stay normal but some people don't let me. Hima thinks of how to stop this marriage. Swapna and Satya come from shopping. Swapna says she brought a lot of sarees for both of them. Sourya argues with Swapna saying did I ask you that I want sarees. Swapna says what is wrong in it I bought you sarees just like I bought sarees for Hima. Sourya washes her hand in the plate and walks away. Soundarya asks about it. Sourya says I took the responsibility of this marriage right.
Prem thinks of Hima about the video he sent and why she isn't responding to him. Nirupam comes and asks Prem what is he thinking about and what is his problem. Prem says there is nothing like that.
Hima talks to Sourya at the same time Nirupam is talking to Prem. Hima says can't we be like before. Hima says we used to be best friends. Sourya says friends don't deceive each other. If they do that they are not friends. Sourya asks why are you creating a problem for me. Hima says I am trying to find a solution for your problem. Hima thinks I love Nirupam but when I know that you love him I decided to sacrifice my love for you. Sourya asks Hima to go away.
Anandrao sees that Sourya is feeling down and tries to cheer her up. Anandrao tries to cheer her up and asks her to get together with Hima. Sourya gets angry and says they will never be together. Sourya goes away.
Nirupam thinks of what is wrong with Prem. Nirupam then thinks of Hima it will be good if she doesn't think of Sourya. She thinks about Sourya all the time. Nirupam decides he should ask Soundarya to put Hima under house arrest.
Soundarya asks Hima to get ready they should go to the temple. Hima takes the saree. Prem comes and asks is she going anywhere. Hima says Soundarya asked me to get ready to go the temple. Hima asks Prem that you said you would plan to stop this marriage right till where did it come.
Episode ends