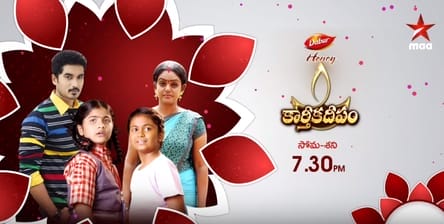 Karthika Deepam 12th May 2022 Written Update on TellyExpress.com
The episode starts with Jwala asking Hima why she brings her to the restaurant. Hima thinks to reveal the truth to Jwala. Hima orders the ice cream and tells her that she has to reveal something to her. Jwala says she has to reveal something to her. Hima asks her to tell. Jwala asks Hima to tell. She receives call and tells them that she doesn't need any loan as she didn't pay her auto loan too.
She tells Hima that she got the phone as a gift from Nirupam. The waiter brings the ice cream. Hima recalls how much Sourya likes it. Some of the ice cream falls on Jwala. She goes to wash her dress. She comes out and finds Hima is left from the restaurant paying the bill. She thinks maybe Hima has some urgent operation.
Prem breaks the vase and thinks about why his Grandmother ruined his dreams. He says I loved Hima more than photography but I lose her. He feels bad seeing Hima's photos on his phone. He deletes her photos. Satyam asks Prem to accompany him to buy an engagement ring. Prem refuses. Satyam asks what he does while staying alone at home. Prem says he has to learn loneliness as he is alone for life.
Soundarya puts Mehendi on Hima's hand. Hima recalls Sourya. Soundarya understands Hima's intention and promises her that she will get her married to Nirupam by bringing Sourya home. Hima thinks she is unable to reveal that Jwala is Sourya. Soundarya asks her to not consider even if Swapna creates a scene. Hima agrees. Chaitra comes there. Soundarya asks her to put Mehendi. She how's aside. Hima asks who's she. Chaitra tells her how Soundarya made her tie rakhi to Nirupam. Hima in tears hugs Soundarya and thinks her grandmother fought so much to reunite her with Nirupam.
.
Jwala feels happy seeing the saree Nirupam sent for her. She thinks why can't he propose to her leaving his shyness. The next day, the passenger asks Jwala if she planning to marry an Auto driver. Jwala stops the auto and tells her that she is going to marry a replicated Doctor in the city. She shows her Nirupam photo and tells her how Nirupam bought auto and mobile to her. She asks Passenger to leave in another auto.
Episode ends.
Precap – Hima calls off her engagement after seeing Jwala at the temple.