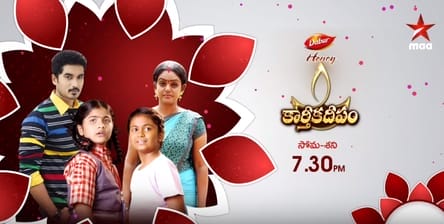 Karthika Deepam 13th May 2022 Written Update on TellyExpress.com
The episode starts with Jwala telling Passenger that she is going to marry Doctor. She asks Passenger to leave on another auto. Passenger leaves. Jwala sees their photo and tells Nirupam that it's so good to hear when she is saying that Sourya's husband is Doctor Saab. She tells him that she will drive auto-post her marriage too. Another passenger asks if she comes to the temple. Jwala agrees.
At the temple, Engagement begins. Satyam waits for Prem. Swapna tells him there is no use to come here and she thinks this engagement won't happen and she will shock her Mom stopping the engagement uniquely. Soundarya notices Hima is tense. She consoles her telling her she can marry once they find Sourya. Hima agrees.
Jwala thinks Nirupam loves her so much and she calls him again but the call does not get connected. Jwala thinks to know where is Nirupam by going to Satyam's house. Prem thinks he doesn't have love in his life. He throws the ring but again takes the ring. He thinks Nirupam wants me to take his engagement photos so I need to go for him. He leaves.
Jwala notices Satyam's house is locked. Prem reaches to temple and he takes photos hiding his pain. Soundarya thinks about what is Swapna's planning. Prem thinks he has to forget Hima. Pandit asks for engagement rings. Satyam opens the boxes and tells them that rings are missing. Swapna thinks she is the one who hides them. She asks Pandit, will Engagement get stopped without rings. Pandit slightly nods. Soundarya tells she bought another set of rings and gives it to Pandit saying no one can stop the engagement.
Jwala drops passenger at the temple. Passenger asks her to wait for her. Jwala agrees. She sees Nirupam's photo and tells him that he is filled in her heart. She thinks about Nirupam and decides to pray to God to make her marry him. She plans to treat him like a king post their marriage. Jwala comes inside the temple. Soundarya asks Hima to not worry about Swapna as she can't do anything. Hima agrees. Nirupam tells Hima that he is so happy like winning the world and he asks why she looks dull. Hima denies telling him she is fine.
Episode ends.
Precap – Hima notices Jwala in the temple, she calls off her engagement and leaves from the temple.