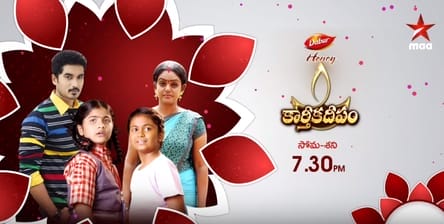 Karthika Deepam 13th September 2022 Written Update on TellyExpress.com
The episode starts with Mounitha asking Karthik when he went to meet Deepa. Karthik says to Mounitha that he went to meet her last night. It's shown Karthik comes to Deepa's house. Seeing Deepa Karthik recalls the first time he met Deepa after he lost his memory. Deepa asks what is he thinking. Karthik says to Deepa what he was thinking about. Karthik says to Deepa that he called her because Mounitha also told him we will do Pooja. If she came then all of them can do Pooja together.
Karthik invites Deepa to Pooja. Deepa agrees to his request. But she put forth another request. Karthik asks what is it. Deepa says he has to do pooja alone so that he can get the whole benefit of doing Pooja and he can completely recall his memory. Karthik thinks it's a good idea and agrees to her request. To make sure he doesn't forget it he writes it on a piece of paper and puts it in his pocket and he asks Deepa to remind him if he forgets about it.
Mounitha asks Karthik why did he go to Deepa's house after she went. Mounitha says Deepa's thinking is not right. Karthik asks Mounitha "if Deepa's thinking is not right why would she ask me to pray so that I and my wife will be together." Karthik says to Mounitha that she has to change the way she looks at Deepa. Mounitha starts shouting on Karthik. Karthik argues with her and says if she behaves like this how can he feel love for her? Mounitha thinks of what Karthik said and decides to make Karthik love her whether by hook or by crook.
Anandrao, Soundarya, and Hima are shown to be doing Ganesh pooja. After it is completed Hima talks about Sourya. Hima asks Soundarya if they can bring Sourya back. Soundarya says to Hima if we try to make her come here then she might run away again to a place we don't know. Anandrao also says that's why we sent Varanasi to look after Sourya. Hima asks Soundarya till when we will be like this. Soundarya says to Deepa till Sourya let goes of her anger against Hima.
Deepa talks to the doctor about what happened today. Doctor asks Deepa after hearing about them he wants to see Mounitha and Karthik. He says he first wants to see Mounitha. Deepa comments on it.
Mounitha thinks of what to do. Mounitha thinks she has to make Karthik love her and she decides to act like she is sick. Mounitha starts acting like she is not feeling well. Karthik asks Mounitha if she ate. Mounitha says she didn't. Karthik asks Mounitha what happened to her. Mounitha says to Karthik she is not feeling well. Mounitha says to Karthik that he is only seeing anger in her and not his love for her. Karthik talks to her caringly and goes to bring the doctor.
Karthik is shown to be looking for Siva to go outside. Deepa sees this and asks Karthik what is he looking for. Karthik says Mounitha is having a fever and I am looking for Siva to call the doctor. Deepa introduces the doctor that is with her. Karthik goes to the doctor. Deepa says to the doctor that Mounitha might be acting like she is ill to get close to Karthik. The doctor says he will go and check it out.
Mounitha calls Siva asking where he is. Siva says he went outside. Mounitha cuts the call and thinks Karthik might be waiting for Siva. Karthik brings the doctor. Mounitha gets worried and acts like she is sick. The doctor asks Karthik if he is a doctor. Mounitha panics hearing this question.
Episode ends.
Precap – The doctor will check Mounitha and writes a prescription for Mounitha. Karthik asks how is Mounitha. The doctor says to Karthik he wrote some medicines for her. Mounitha sees the prescription and understands that Deepa sent the doctor. Mounitha gets out of bed and starts questioning the doctor by holding his collar. Deepa thinks Mounitha found out.