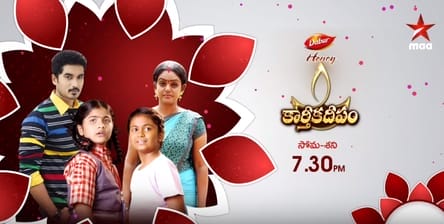 Karthika Deepam 14th May 2022 Written Update on TellyExpress.com
The episode starts with Jwala praying to God. Nirupam tells Hima that he is so happy and asks why she looks dull. Hima tells him nothing. Satyam tells Swapna that it's good if they search match for Prem too. Swapna says they have to search for Nirupam too as this engagement won't happen. Satyam asks where the rings are gone. Swapna says she took those things. She thinks Soundarya underestimated her and her real plan is not the ring one.
Hima sees Jwala in the temple. She feels tense thinking what happens if she catches her with her grandmother. Jwala leaves. Pandit tells them it's muhurta time and asks them to exchange tambulas. Soundarya calls Swapna. Swapna thinks she will show what she can do. Hima calls off the engagement saying she doesn't like this marriage proposal. Everyone gets shocked. Nirupam asks what is she saying. Hima tells him sorry and leaves the temple without listening to Soundarya. Prem thinks about why Hima does it in this way. He thinks about whether he has to feel happy or sad. Swapna asks everyone to leave.
A passenger comes out from the temple and tells Jwala how the bride calls off her engagement at the last moment. Jwala feels bad for the groom and thinks she will slap the bride if she comes in front of her. Swapna confronts her Mom about why she made Nirupam feel humiliated? I told you before itself that Hima is ill-fated but you arranged this engagement and make Nirupam feel unwanted by making Hima reject him. Soundarya cries.
Hima comes to her parent's photo and tells them that you guys gave Sourya's responsibility to me and I broke my engagement with my love for Sourya as I realized how much Sourya loves Nirupam seeing the way she saved his number as her husband. Hima says I thought what I can do for Sourya as she lose everything because of me and now I get the chance to do something for her that's why I sacrificed my love for Sourya and I will make her get married to Nirupam. Letter Soundarya returns home and confronts Hima why she calls off her engagement at the last moment without thinking about them.
Episode ends.
Precap – Soundarya slaps Hima and asks why she calls off her engagement at that last minute. Jwala notices Nirupam in a drunken state. She asks why he drank so much. Nirupam confesses to her that he loves her.