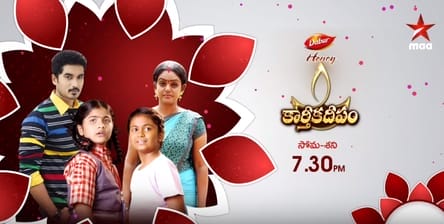 Karthika Deepam 14th November 2022 Written Update on TellyExpress.com
The episode starts with Mounitha saying to Deepa that she can't stand Karthik close to her. Deepa says what is her problem when her husband is close to her. Mounitha says to Deepa that Karthik is not her husband and says he is her lover and says she is fed up with all this and says she will kill one of them. Deepa asks Mounitha to stop and says she didn't do anything to her till now only because Karthik is safe and says if anything happened to Karthik she will kill her. Deepa warns Mounitha and leaves from there.
Anandrao and Hima talk about Mounitha. Hima asks Anandrao not to talk about Mounitha and reminds Anandrao didn't call them till now even if their son is with them and says if Deepa is here she would have been worried if she didn't see Anand for a minute. Hima and Anandrao talk about Sourya. Hima asks Anandrao if there is a possibility of their parents being alive. Anandrao says we should live in reality and accept the truth.
Mounitha recalls Deepa warning her and decides to push her into the river from the back. Karthik sees this and stops Mounitha. Karthik takes Mounitha to a side and asks if she wanted to kill Deepa? Mounitha says yes and says she will not allow anyone to come in between them and asks Karthik what is he doing? Mounitha reminds Karthik of what he did after coming to the temple. Karthik asks Mounitha why is she so insecure and asks Mounitha if he is really her husband.
Deepa also asks Mounitha to say the truth. Mounitha says to them it is enough with the dramas and asks Karthik to give a promise to her that she will not meet Deepa again if not Mounitha takes the sacred fire and says she will burn herself if she doesn't give his word. Deepa asks Mounitha to burn herself if not Deepa will burn her. Mounitha reminds Deepa of what she said and warns Deepa that one of them will be killed before tomorrow. Siva Latha takes Mounitha from there.
Sourya thinks of Indrudu and Chandramma changed behaviour towards her. Indrudu and Chandramma see Sourya and act their play. Chandramma asks Indrudu why is he sad? Indrudu says he is sad as Sourya is doubting them after we sold the auto. Chandramma assures Indrudu and says we brought Sourya here so that their grandparents doesn't take her away and says now
Sourya is grown up and we can't take her normally like we used to and says now there is only one solution and says they have to find Sourya's parents as quickly as possible. Sourya hearing this thinks she misunderstood Indrudu and Chandramma. Sourya feels guilty and hugs Indrudu and says she will listen to them from now on. Sourya goes inside. Chandramma feels happy as Sourya believed them and says now they have to make her slowly forget her parents.
Deepa recalls what Mounitha said. Karthik comes and asks Deepa if she is thinking about him? Deepa asks Karthik what is he doing here? Karthik says he thought Deepa might not have eaten anything and brought her tiffin to eat as she was fasting from morning. Karthik gives tiffin for her to eat and asks Deepa to eat the food. Mounitha sees this and thinks she is also fasting from morning but Karthik didn't ask if she ate anything and now he is bringing food to Deepa. Mounitha seeing all this increases her suspicion that Karthik recalled his past.
The pandit asks Deepa how did her ritual went yesterday. Deepa shares her situation with the Pandit. Pandit says after hearing about her he was reminded of Sita Devi as she also suffered a lot.
Mounitha thinks of what happened last night and understands that Karthik is behaving as if Deepa is his wife and not her and thinks of what to do about it.
Episode ends.
Precap – Karthik to overhear when Deepa complains to Durga that she will not leave Mounitha as she tried to burn her alive using Vaani. Karthik asks Deepa about it. Deepa says Vaani tried to burn her alive in her house.
Karthik goes and questions Mounitha on why did she try to kill Deepa as she is only worried for her husband and child. Mounitha satirically asks if she is worried about her husband or for him. Karthik asks Mounitha to shut up.