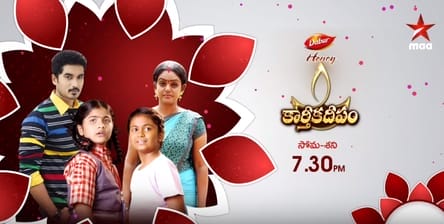 Karthika Deepam 14th September 2022 Written Update on TellyExpress.com
The episode starts with Karthik bringing the doctor to see Mounitha. Mounitha acts like the doctor isn't needed. The doctor acts if he and Mounitha are doctors. Mounitha gets suspicious of this doctor. The doctor asks how is she feeling. Karthik tells Mounitha's symptoms to the doctor. The doctor checks Mounitha and thinks to himself that Deepa is right about Mounitha. Karthik asks the doctor if Mounitha will be alright. The doctor says he will write some medicine for her and asks Mounitha to use them. Mounitha sees the prescription and says these medicines are not for fever. The doctor asks how she knows and asks if she is a doctor. Karthik also asks the same question. Mounitha doesn't answer their question.
The doctor advices Mounitha that with her condition she has to stay away from the kitchen. Mounitha understands that this doctor is Deepa's man and questions him by holding his collar. Karthik admits that the doctor is Deepa's brother. The doctor also admits the same thing. Mounitha says to Karthik that she just had a normal fever and not as bad as he said. Mounitha asks Karthik to send the doctor out. The doctor leaves along with Deepa. Karthik and Mounitha argue about how she behaved with the doctor.
Hima recalls Sourya and talks to herself and cries to herself. She thinks it would have been good if Sourya is with her. Hima runs into Saroja. Saroja greets her and asks how is Sourya. Hima says Sourya is Mangalore hoping that their parents would come back. Saroja also says after hearing what happened to Karthik, Mounitha sold her entire property and left her child with her sister. Hima hearing this asks Saroja if she can meet Anand. Saroja says she can.
Mounitha thinks of how to cut off Deepa from Karthik. Karthik asks Mounitha if she is thinking about their child. Mounitha then understands that he is thinking about their child
So Mounitha thinks if the child is here then she can get close to Karthik. So Mounitha says she has found the child. Karthik asks where is he. Mounitha says he is in Chennai and she will go bring him. Karthik says he will also come with her. But Mounitha convinced him to stay here.
Hima plays with Anand. Hima asks Saroja if she talked to her sister and if they can take Anand. Saroja's sister and her husband don't agree to her request for Anand's adoption as Mounitha gave them the entire property to look after Anand. Hima thinks if Soundarya and Anandrao ask them they might agree to Anand's adoption.
Deepa and the doctor talk about Mounitha. Deepa thinks Karthik might misunderstand her again. Doctor encourages her and says to her to stay calm no matter what happens. Deepa gets worried if she can ever get Karthik or not. Doctor encourages her and says to fight them. Deepa agrees and leaves. Doctor provokes Deepa to encourage her.
Episode ends
Precap – Karthik will come to meet Deepa. Deepa invites him into the house. Karthik says he will not come and asks her to come outside. Karthik says to Deepa in why did she make her brother act as Doctor to cheat him. Karthik says to Deepa that he is married and Mounitha will be the only woman in his life.