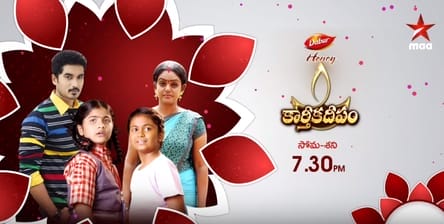 Karthika Deepam 15th August 2022 Written Update on TellyExpress.com
The episode starts with Nirupam saying to Prem after his marriage they will sit and solve his problem. Prem thinks his marriage is the problem. Nirupam gets a call from Hima and she says she is going to the temple. Nirupam asks Hima to call him after she comes from the temple and says he has to talk to her. Prem decides he will tell his about his love to his parents and let them decide what is going to happen. The marriage is very near.
Satya and Swapna talk about going to shopping with her parents. They talk about Prem. Satya says Prem is acting weird. Prem comes and decides to tell them but before that Swapna says she only came out of Shobha's tension now and I don't want any new problems. Prem asks for two minutes but Swapna says we will talk after Nirupam's marriage.
Everyone prays about their wishes to God. Sourya prays if their parents are alive and asks God to show them. Hima prays for Sourya and Nirupam's marriage to happen. The Pandit says today this time is very auspicious to Soundarya. Hima tries to tell Sourya what she did for her but Sourya says she doesn't want to talk to her. Soundarya asks Hima what happened. Sourya takes Hima to a side and asks her to tell her what she wants to say. Hima says whatever she is saying is the truth but.
Sourya interrupts her saying I am only not listening now right, now I am going to listen and ask her to tell them what she is going to say. Hima says what happened at Karthik and Deepa's last moments. Hima also tells that Deepa and Karthik asked her to take care of Sourya. She says when she was stuck to a tree the people who saved her are Chandramma and Indrudu. Sourya tells her to stop telling nonsense and tell her what she wants to say.
Hima swears on the god and says whatever she said is truth. Sourya says she doesn't believe her and says you betrayed me this is the only truth. Hima asks what will make her believe that she said the truth. Sourya says only if her parents came back and tell her then only will she believe what she said. Soundarya and Hima ask how can it happen. Durga comes and says what Sourya is saying can happen and reveals to them that Karthik and Deepa are alive. Soundarya asks Durga if they are really alive. Durga says yes.
It is shown a few years before Deepa is on the hospital bed and thinking of the accident and wakes up taking Karthik's name.
The doctor is talking to a patient and scolds him for not taking his medicines properly and says he will get a bed ready for him if he doesn't take his medicine properly. The nurse comes and says bed no 3, the patient thinks it is for him and runs away from there. Doctor asks the nurse what is she talking about. The nurse says the patient on bed no 3 got consciousness.
The doctor comes and talks to Deepa saying there is no need to worry she won over death. Deepa asks where is doctor Babu. The doctor says he is Doctor Babu. Deepa says he is not and gets out of the bed and starts looking for him everywhere. The doctor comes behind her and asks her to calm down and asks her if there is someone with her in the accident. Deepa says yes and says with her in the car his Doctor Babu should also be there. The doctor says to the person she is looking for is not here and says when you are in a near death state the people who look for colour stones saw her in the valley and brought her here.
The doctor says no one came looking for her and says in the accident your Doctor Babu might have, Deepa interrupts the doctor by holding his collar and says I am alive so he will also be alive. Deepa starts looking for Doctor Babu everywhere shouting his name and asking if anyone saw him. Deepa searches the whole hospital and still couldn't find him and she cries to herself thinking of what happened. Deepa later thinks of her children and it is shown that Sourya is crying for her parents. Chandramma and Indrudu try to console her. Sourya blames the circumstances and hugs Chandramma. Chandramma and Indrudu try to console Sourya.
Episode ends
Precap – Deepa will be shown praying to God to take her to her husband and children. The doctor asks who is this Doctor Babu. Deepa says it is her husband he is in the car with her so he has to be with me right. The doctor tells Deepa when no one comes to claim the dead bodies they will be stored in the mortuary for a period of time and tells her there is dead body that came at the time of her accident and asks if she can identify the body. The doctor show Deepa the body. Deepa remembers the Karthik wore a red T shirt on that day. When the doctor shows the face of the dead person Deepa gets shocked.