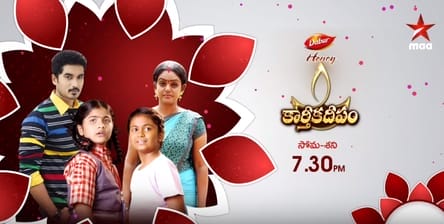 Karthika Deepam 15th July 2022 Written Update on TellyExpress.com
The episode starts with Hima saying her grandparents she will eat later. Sourya asks Soundarya to call her and asks her to eat with us. Soundarya calls Hima to sit with them. Hima feels happy thinking Sourya's anger is getting reduced. She sits in the chair. Sourya asks Soundarya to sit Hima in front of her. Hima sits happily. Sourya asks her to eat seeing my eyes then she knows how much pain I'm bearing because of her betrayal. Everyone looks on.
Nirupam sees Hima's photo and thinks don't know how to understand you Hima, I know you love me but I'm unaware of what's happening in your heart so I will know it tomorrow from you. Hima thinks she is unable to bear the anger of Sourya. Anandrao says to Soundarya, doesn't know how the differences get cleared between Hima and Sourya. Soundarya says it takes time and if we try earlier Sourya may leave the house.
Hima thinks she wants to inform the truth to Sourya that she didn't cheat on her but she is not in the mood to understand it. The next day, Anandrao and Soundarya give Hima and Sourya clothes for washing according to their plan. They give new dresses to Hima and Sourya. Prem thinks he tried many ways to confess his love to Hima but it didn't happen and don't know what god write for us.
Hima thinks why his grandfather asked her to wear this dress. She decides to ask Nirupam to forget her. Hima asks her grandparents why they gave new dress. Soundarya says it's normal. Sourya comes out in the same dress. Hima thinks what if Sourya gets angry.
Sourya asks if it's Hima's plan? Hima tries to talk but Sourya doesn't let her talk. She warns her to not irritate her with her acts. She leaves. Hima asks her grandparents why they did it. Soundarya asks her to not feel sad. Hima goes out receiving Nirupam's call. Anandrao says to Soundarya that they need to try more.
Swapna asks Prem if he thinks of any solution. Prem says Nirupam won't get married to Hima for sure so don't worry. He leaves. Swapna feels happy. In the restaurant, Nirupam asks Hima to not involve Sourya in their marriage. Hima thinks it's not the correct time to talk with him. Sourya finds Nirupam and Hima in the restaurant and leaves from there. Hima to leaves without talking to Nirupam.
Sourya returns home. Soundarya asks why she returns soon. Sourya shows her frustration and goes inside. Anandrao asks what happened. Soundarya says Sourya is like her Dad. They see Hima returning home but don't ask her anything. Hima sees Sourya throwing darts at her photo. Hima comes in between and asks her to throw them at her if she is that much angry at her. Sourya asks if it's her other plan. Hima says there are no plans but you're not listening.
Episode ends.
Precap – Nirupam will say I love you to Sourya assuming her as Hima. Sourya will turn then he apologizes to her. Hima will ask Nirupam to marry Sourya if he loves her. Sourya will overhear their conversation. Later she will reconcile with Hima.