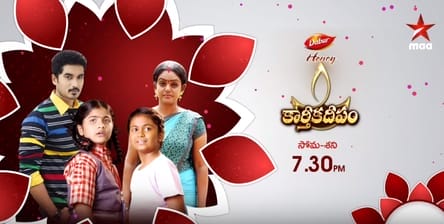 Karthika Deepam 15th September 2022 Written Update on TellyExpress.com
The episode starts with Karthik coming to Deepa's place and calling her out. Deepa invites him into the house. Karthik says he will not come and asks her to come outside. Deepa recalls her brother's advice and thinks to handle him with care. Karthik says to Deepa why did she make her brother act as Doctor to cheat him? Deepa says he is Doctor and I can take you to his clinic. Karthik says no need and you planned to join our house as a cook.
Deepa says you may not talk to me in this way if you remember the past. Karthik asks if she remembers all of his past. You may say you're my wife. Deepa gets into tears and thinks to wait for the day he remembers his past. Karthik says he regrets supporting her without believing Mounitha and your actions are making me doubt you. He says he is married and Mounitha will be the only woman in his life. Deepa cries. Karthik asks her to not cry and he says I forget every issue except your things and that's why Mounitha suspects me. Deepa says she never behaved anything wrong. Karthik says I'm wrong and tells her that he won't accept anyone as his wife except Mounitha and asks her to remember it. He leaves. Deepa looks on.
Mounitha thinks it's good if she brings Anand here to get closer to Karthik. She thinks Deepa may get closer to Karthik if she goes to bring Anand plus taking Karthik to Hyderabad is risky too. She thinks to keep Deepa away from her place when she goes to bring Anand.
Deepa shares her pain with her brother and mother. The doctor and his mother ask her to not consider Karthik's words seriously. He asks her to try with past confidence then you will get Karthik but remember that Mounitha is a risky lady and never underestimate her. Deepa agrees.
Hima asks Anandrao why he is not talking about Anand. Hima asks him to agree to bring Anand to their place. Anandrao thinks Anand is a black mark on his son's name but Hima is not understanding. Hima asks him to agree to bring Anand. Anandrao agrees for her happiness.
Chandramma asks Varanasi to leave with the carriage before Sourya wakes up. Sourya stands near the gateway and tells them that they can't stop him. Chandramma says your throat is not good so let's go to the hospital as we are worried for your health. Sourya says I'm Vantalakka's daughter and I know which Kashayam is good to cure my condition so I will drink it in the evening. Varanasi assures them they will return in an hour. Sourya asks Chandramma to not think that she left them if she finds her parents as we can live in Hyderabad as a family. Chandramma hugs her and tells her she just needs her happiness. She sends them. Chandramma says to Indrudu that Sourya is still believing her parents are alive. Indrudu says it's good to live in a lie than a painful truth.
Doctor praises Deepa's cooking. Deepa asks the doctor that if we bring Karthik here then can we make him recall his memory by giving him proper treatment with a specialist. Doctor says it is possible but asks Deepa how can it happen as Mounitha won't allow that to happen. Deepa says she will bring Karthik forcefully if she has to. Doctor says we need Karthik's complete cooperation for the treatment and if she brings Karthik forcefully then Mounitha will trouble her and not only that Karthik will be suspicious of her and may not recall her forever. Deepa says that should not happen. Deepa asks what can we do. Doctor says only by showing her love to Karthik can he be healed. Deepa agrees.
Two ladies talk to Mounitha. They say that there is a natural health clinic here and in it, they can make people recall their memory within a week and she can bring her husband there. Mounitha says she is not going fall for their trap and give them money. They say the medicine is free and all she has to do is bring the patient. Mounitha asks them to leave. Deepa hears everything and thinks if Mounitha sends Karthik there then Karthik might recall his memory.
Episode ends.
Precap – Deepa sees Sourya's auto and asks Indrudu if he will come. Indrudu agrees to the fare. Indrudu gets a call from Sourya. Sourya says to Indrudu that she is going tell the list of what he has to bring. Indrudu says he will note it down. Deepa offers to help as it is getting late for her. Sourya hears Deepa's voice and thinks it is her mother's voice. Deepa takes the phone from Indrudu and asks on the phone what she has to write in the list. Sourya doesn't answer as she feels emotional hearing the voice.