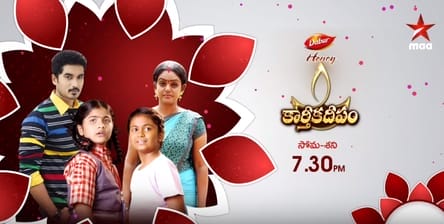 Karthika Deepam 16th January 2023 Written Update on TellyExpress.com
The episode starts with Deepa thinking no one is happy with Mounitha. She decides to tell the truth to Soundarya and make her agree to Karrhik's second marriage and if she won't agree then I have to die along with Mounitha. Kids come there and ask where is dad. Deepa says he went to meet Doctor. Kids ask why she looks upset and asks won't she like to return to them. Deepa says nothing like that. Soundarya says you're lost in your thought and tell me what you want to say. Deepa decides to share her problem with Soundarya. Soundarya sends Kids to call their Dad. They leave. Soundarya asks her to talk. Deepa diverts the topic and says she wants to see Father in law going to Hyderabad. Soundarya asks if it's the matter she wants to talk to her. Deepa says yes and says she has to turn off the gas and leaves. Soundarya thinks about what Deepa and Karthik are hiding from her. She decided to find it.
The next day, Karthik and Deepa perform Sankranti puja. Soundarya says they have to be happy in this way. Deepa says their happiness is permanent. Sourya asks Soundarya why they celebrate Sankranthi. Indrudu says the wrong story. Soundarya corrects him and tells Sourya that Makara Sankranthi is puja for the sun and tells them the story of it. She goes out to place gobbemma. Kids and others leave with Soundarya. Deepa requests Karthik for second marriage for their family's happiness. Karthik gets angry and scolds her for her wrong ideas. Deepa thinks he is not changing so I have to inform mother in law.
Deepa dances with her family. Mounitha sees Karthik and Deepa celebrations from Hemachandra's house. Hemachandra sees her and asks who's there. Mounitha introduces herself as Karthik's second wife. Hemachandra says stop naming yourself as Karthik's wife as Deepa is Karthik's wife. Mounitha asks him to stop hating her and asks if won't Karthik tell him about her deal. Hemachandra says he told me. Mounitha says let's talk later and she places clothes to get dried. Deepa sees Mounitha with Hemanchandra. She falls unconscious in tension. Soundarya and everyone go to Deepa. Mounitha sees it and thinks it's good if Deepa dies.
On another side, Murali Krishna cries seeing Deepa and Karthik's photo. Bhagya Lakshmi tries to comfort him. They hear a calling bell sound. Bhagya Lakshmi opens the door and gets shocked to see Karthik and Deepa with their kids. She falls unconscious. Everyone feels concerned for her. Muralikrishna comes out hearing the noise. He feels elated seeing Karthik and Deepa alive.
Sourya goes to bring water. Murali asks them why is Bhagya Lakshmi unconscious. Karthik says she might have felt shock by seeing them. Sourya brings water. They sprinkle water on Bhagya Lakshmi. Bhagya Lakshmi feels elated seeing Karthik and Deepa alive and thinks it is a dream. Hima pinches Bhagya Lakshmi to prove that it is not a dream. Murali asks where were they till now? Sourya says they were in the same place of the accident. Bhagya Lakshmi and Murali ask why didn't they come here till now. Karthik and Deepa say she will tell them later. Murali invites them into the house.
Soundarya prays to God and comes out and sees Mounitha. Soundarya seeing Mounitha argues with her and asks her why did she come here? Mounitha asks Soundarya if she knows the reason why Karthik and Deepa didn't come here till now. Soundarya says the reason might be anything but she doesn't want to know it from her. Mounitha argues with Soundarya and decides to tell Soundarya the reason for Karthik and Deepa not coming home till now. Mounitha gives Deepa's health file to Soundarya. Soundarya sees the file and gets shocked.
Episode ends.
Click to read