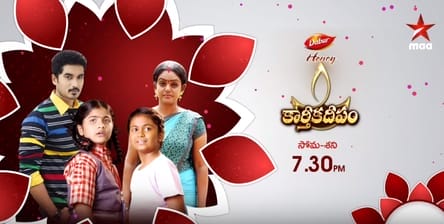 Karthika Deepam 16th May 2022 Written Update on TellyExpress.com
The episode starts with Prem thinking Hima canceled her engagement as she loves him. He feels he is lucky and restores her images. Satyam returns home in a drunken state and asks Prem why Hima did it in this way. Prem asks him to not overthink. He thinks don't worry Dad as she will be the daughter in law of our house. They notice Jwala comes there.
Prem asks Satyam to not tell Jwala that Hima canceled the engagement. Jwala asks where they went in the morning as their house is locked. Satyam says he attended the engagement. Jwala says in the morning passenger told me that some girl back out from her engagement at the last moment, and doesn't know whom she loves.
Soundarya confronts Hima about why she backed out from engagement at the last minute, did Swapna threaten you. Hima says no. She asks her to not question her as she doesn't like this marriage. Soundarya slaps her and asks her to reveal the truth behind her behavior you made me get insulted in front of Swapna so tell me what's in your heart. Hima says she doesn't like this marriage. Soundarya says you're making Swapna words real so tell me the truth. Hima pleads with her to not ask anything and leaves from there. Soundarya feels bad thinking about Nirupam's condition.
Jwala notices someone halted the car in the middle. She goes to the car. She gets shocked seeing Nirupam in drunken condition. She takes him out of the car and questions why he drank so much. She asks if it's a party. Nirupam says it's a love party. He recalls Hima's words. He asks Jwala if she likes him. He confesses to her that he loves her. Jwala thinks he is proposing to her. He meant for Hima. He says she is not understanding his love and pain. She is about to tell him that she loves him too but she gets interrupted by him. She tells him she will take him home. Nirupam tells he likes her helping nature.
Jwala brings him home. Swapna scolds him for coming in auto. She asks Jwala to leave telling her she will take her son inside. Jwala asks her to make him drink curd. Swapna says she knows what to do and takes him inside. Swapna thinks she has to do something to make Jwala leave Nirupam's life. Jwala leaves thinking she loves Doctor Saab. Jwala thinks finally Nirupam confessed his love to her. She thinks he belongs to her.
Hima comes downstairs with her luggage. She thinks she has to make Sourya get Nirupam. Soundarya asks where is she leaving. Hima tells she is planning to stay at the hotel. Soundarya asks won't she likes to stay at home? Questions if she returns to home on festivals or not.
Episode ends.
Precap – Swapna tells Nirupam that it's good Hima went from your life as she is unlucky. Jwala meets Nirupam and asks him to tell her when he is planning to drink. Nirupam asks shy. She thinks to listen to his confession again.