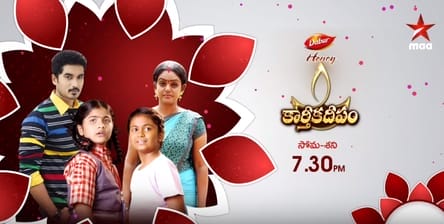 Karthika Deepam 16th November 2022 Written Update on TellyExpress.com
The episode starts with Karthik asking why is she trying to kill Deepa if she is his wife? Karthik accuses saying a conjecture that Deepa is his wife and she is trying to kill Deepa so that Mounitha can make him completely hers. Mounitha says no and when a husband is having affair with another woman. The woman will either teach her husband a lesson or teach a lesson to the mistress and says she can't do anything to him that's why she is showing her anger toward Deepa. Mounitha asks Karthik to keep stay away from Deepa. Karthik says she is just misunderstanding them and asks Mounitha to prepare food. Mounitha leaves from there with anger because of Karthik's answer.
Durga says to Deepa that Karthik might have really recalled his past. Deepa asks why does he think like that. Durga says he has suspicion from the beginning and says if Karthik really recalled his past then he should have come to her. Deepa also thinks of the same thing and thinks why is Karthik not coming back. Durga and Deepa talk about Karthik's behaviour recently. Durga thinks they have to find out what is the reason for Karthik not coming to her. Deepa agrees.
Indrudu says to Sourya he is going to the town where they stayed last time. Sourya says she will also come with him. Indrudu rejects at first but after Sourya's insistence, he agrees and takes Chandramma with them.
Mounitha gives a warning to Deepa and says she is going to kill her in a few days. Deepa says she should have killed her last night. Mounitha praises Deepa for going against her even if she knows what she is capable of. Mounitha says she is going to kill her and tells Deepa to start counting her hours.
Mounitha recalls what happened and starts stress eating and lashes out at the waiter. Deepa recalls what happened and feels angry. Karthik comes and asks what happened. Deepa says Mounitha said she is going to kill her. Karthik asks Deepa what is she going to do? Deepa says she is going to see Mounitha and tries to go to Mounitha's house. Karthik stops Deepa and says Mounitha is not in the house. Deepa says wherever she is she has to come home right. Deepa goes to Mounitha's house and Karthik goes after her.
Mounitha asks the waiter for the bill. The waiter says she already paid the bill showing Soundarya. Mounitha sees Soundarya and feels worried. Mounitha asks Soundarya what is she doing here? Soundarya greets Mounitha and asks Mounitha to go to their home. Mounitha makes up a reason and says it is completely messed up. Soundarya sees Mounitha sweating in the AC and insists going to their home. Soundarya asks Mounitha to go first and she will follow her car.
Sourya sees the town they used to stay and says she is missing this place a lot. Chandramma says they went to Sanga Reddy so that they can look for Sourya's parents. Sourya also recalls what happened last time. Indrudu asks Sourya if she wants they can return here. Sourya says no and says if her grandmother sees her then she will take her even if she has to tie her.
Episode ends
Precap – Deepa to asks Karthik not to say anything when she is going to argue with Mounitha today. Karthik agrees. Mounitha sees Karthik and Deepa inside and thinks of how to divert Soundarya. Mounitha invites Soundarya inside. Deepa sees Mounitha and comments on her.