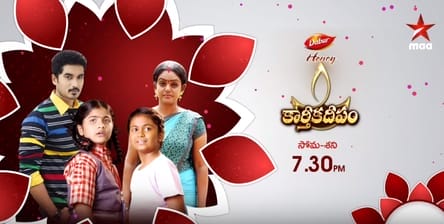 Karthika Deepam 16th September 2022 Written Update on TellyExpress.com
The episode starts with Mounitha saying to ladies that she doesn't believe them. Ladies request her to trust them and assure her that their Swamiji medicine will make her husband recall his past. Deepa says I know you won't take Karthik there as you don't want Karthik to regain his memory.
Mounitha asks the ladies to leave saying she doesn't want her husband to recall his past. Ladies come out while discussing Mounitha's behaviour. Deepa stops them and asks if that medicine works. They agree. Deepa asks if can she takes medicine for her husband as he is not in a situation to come to their clinic. Lady agrees and tells her that she needs to take medicine at night as Sunlight will reduce the effect of the medicine so it will take 2 days for her. Deepa agrees and takes their number.
Deepa goes to her brother and informs him of whatever happened at Mounitha's place. She asks if can she trust Ayurveda. Doctor says Ayurveda is good but is it possible without a patient? Deepa says the lady said it's possible and they asks me to contact them to know the address. She asks him to call them. He calls her and knows the information that it will work. He tells Deepa that it will take 2 days and tells her that he accompany her. Deepa says she goes alone and asks him to keep an eye on Mounitha's place. He assures her saying Karthik is his responsibility.
Karthik takes medicines. Mounitha in tears asks him to not think about his past as it's risky for his health and she can't live if anything happens to him. Karthik agrees and asks if she is going to bring their baby from Chennai. Mounitha thinks he remembers about the baby and it's good if our son is here. Mounitha tells him she will bring their baby from Chennai. Later Mounitha sees Deepa locking her house. Mounitha thinks she fooled Deepa easily and this time I can return here with Anand.
Mounitha asks Deepa if she is leaving permanently. Deepa says history is going to repeat and Doctor babu will be back to me remembering his past. Mounitha asks if she is going to those ladies who said they will give ayurvedic medicines. Deepa says she will end her story in one week. Mounitha wishes her luck. Deepa leaves. Mounitha thinks she is feeling pity for Deepa.
Deepa sees a quotation on Indrudu's auto and recalls Sourya. She asks Indrudu about the quotation. He says it's his daughter's idea. Deepa tries to ask him another question but that time he receives Sourya's call. Sourya says to Indrudu that she is going to tell the list of what he has to bring. Indrudu says he will note it down. Deepa offers to help as it is getting late for her bus. Sourya hears Deepa's voice and thinks it is her mother's voice. Deepa takes the phone from Indrudu and asks on the phone what she has to write in the list. Sourya couldn't hear her voice because of the Auto noise. Deepa writes the list that Sourya tells her on the phone.
Deepa gives the phone to Indrudu. Indrudu also stops the auto and says they reached the bus stand. Indrudu asks where is she going. Deepa says where she is going. Indrudu says there is no natural health clinic at the place where she said. Indrudu says to Deepa someone gave her the wrong information. Deepa later recalls herself challenging Mounitha but Mounitha didn't take herself seriously. After thinking for a while she later understands that this is a trap of Mounitha for her make stay away from Karthik.
Sourya thinks it is Deepa's voice and calls Indrudu to confirm if she is Deepa or not. Indrudu picks up Sourya's call. Sourya asks Indrudu if he can send the woman photo who talked to her on the phone. Indrudu says he already dropped her at the bus stand. Sourya says that woman's voice is like her mother's. Indrudu says if he sees her again he will send her photo to Sourya. Sourya agrees.
Doctor and his mother talk about Deepa leaving to the natural health clinic. They both see that Deepa is coming into the house. Doctor asks Deepa why didn't she go to the natural health clinic? Deepa says there is no natural health clinic it is just a trap of Mounitha to keep me away from Karthik.
Episode ends.