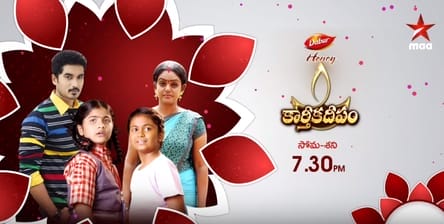 Karthika Deepam 17th January 2023 Written Update on TellyExpress.com
The episode starts with Murali asking Karthik and Deepa what happened after the accident. Bhagya Lakshmi says Karthik and Deepa came back after the accident and i.e good enough. Bhagya Lakshmi asks Murali not to spoil the mood. Murali comments on it. Bhagya Lakshmi serves everyone a dessert. Murali comments on it. Murali asks Deepa if she recalls how they celebrated her first Pongal after the marriage. Deepa says yes and says i.e her first Pongal and this is her last Pongal. Murali asks Deepa why did she say this is her last Pongal. Karthik covers it up. Bhagya Lakshmi says Deepa might have slipped her tongue and asks Murali not to think too much. Murali says he couldn't handle another blow like the last time.
Soundarya consults a doctor about Deepa's health on the phone. The doctor says only a heart transplant is the only way for Deepa to be alive. Mounitha takes the call and cuts it. Mounitha reminds Soundarya that Karthik is a cardiologist and he couldn't do anything to save Deepa then how can others do it? Soundarya stays silent hearing this. Mounitha says she can save Deepa. Soundarya asks Mounitha how can she do it. Soundarya says she needs to give her life for Deepa. Soundarya comments on it. Soundarya asks Mounitha what does she want in return to save Deepa. Mounitha says her last wish in life is to be Karthik's wife. Soundarya hearing this takes Mounitha's hand and asks Mounitha to leave.
Soundarya comes to Karthik who is he talking to? Karthik says there is nothing. Soundarya asks Karthik if he talking about Deepa. Karthik says no. Soundarya shows Deepa's health file and questions Karthik why he didn't tell them about Deepa's health. Karthik apologises to Soundarya and says this is the reason for Karthik and Deepa to stay away from them.
Karthik asks Soundarya how can he come and tell them about Deepa's health. Soundarya gets emotional hearing this. Karthik asks Soundarya how did she know about this and who gave her the file? Soundarya says to Karthik what happened with Mounitha. Karthik says Mounitha also came to him but he rejected her proposal. Karthik asks Soundarya to not tell Deepa and the kids that she knows about Deepa's health.
Hima and Sourya dance for a song. Deepa sees them and prays to God about their well being. Hima and Sourya ask Deepa to dance. Deepa doesn't agree at first. Deepa asks Hima and Sourya to show their tattoos. Sourya says she will not show it as it will make her recall about the accident. Sourya says she can never forget the accident and and she can never forgive Hima for it. Sourya leaves from there.
Hima comments on it and asks Deepa to dance with her. Deepa agrees and dances with Hima. Soundarya stops Deepa and says she shouldn't dance as she will feel tired. Deepa questions Soundarya about why is she saying it like that? Soundarya makes up a reason and goes to prepare food for them. Deepa asks Karthik about Soundarya's changed behaviour. Karthik says there is nothing and asks her not think too much. Hima sees Karthik and Deepa talking secretly and recalls Mounitha said about a secret. Hima decides to find out about it.
Mounitha thinks of what should she do as no one is believing her. Hima calls Mounitha from Soundarya's phone and asks Mounitha what is the secret that she talked last time about. Mounitha hints Hima that the secret is about Deepa and makes Hima worries more and cuts the call. Mounitha thinks she can use the small fish to lure big fish into her trap.
Episode ends.