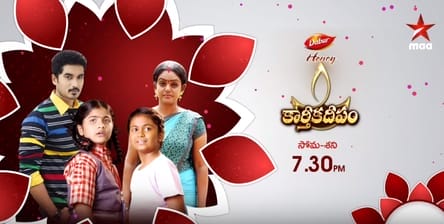 Karthika Deepam 17th November 2022 Written Update on TellyExpress.com
The episode starts with Indrudu asking Sourya if she wants to return here. Sourya recalls what happened and says there is no need and says if her grand mother is here last time then she would have come to take her away. Indrudu says after taking the money from the Ice cream vendor they will leave. Sourya agrees. Indrudu feels relieved that Sourya didn't insist to stay here.
Deepa feels infuriated as Mounitha threatened to kill her. Karthik tries to dissuade Deepa from confronting Mounitha. But Deepa doesn't listen to Karthik as she is already infuriated with Mounitha's behaviour.
Mounitha feels worried about how to save herself from Soundarya and how to make sure Soundarya doesn't see Karthik or Deepa in her house. Soundarya gets suspicious of Mounitha's behaviour and decides to find out what is Mounitha hiding from them.
Indrudu takes money from the Ice cream vendor and says they don't need to return to this town anymore. Soundarya sees Sourya with Indrudu and Chandramma. Soundarya recalls what Anandrao said and goes to talk to Sourya. Mounitha sees Soundarya is distracted with Sourya and decides to go to the house and hide Karthik and Deepa first.
Deepa gets suspicious of Karthik's behaviour. Deepa decides to test Karthik first. Deepa tries to break Karthik and Mounitha's photo. Karthik stops Deepa and says that no matter what Mounitha is his wife. Karthik says he will not allow her to break the photo. Deepa says Mounitha is not Karthik's wife and for that he needs to recall about it. Deepa says she can't make Karthik recall his past but she can make Mounitha reveal the truth and calls Durga to teach Mounitha a lesson.
Soundarya asks Sourya to shut up and come with her. Sourya tries to explain to Soundarya. Soundarya says what Anandrao said about them making Sourya stay with them. Sourya defends Indrudu and Chandramma and says last time they also did the puberty function very well. Chandramma says they did it with what they can. Soundarya hearing this feels sad. Soundarya says to Indrudu we will talk in their home and goes to Indrudu and Chandramma's house.
Mounitha sees that the boutique and the house are locked and thinks of where are Deepa and Karthik. Mounitha sees Durga and asks him where are Deepa and Karthik and what are they planning? Durga says he doesn't know and says he only took her car keys. Mounitha asks Durga for the car keys. Durga doesn't give her the keys and says her time is over first worry about it and leaves from there.
Soundarya questions Sourya on why didn't she call them on her puberty function. Sourya says she thought Indrudu and Chandramma would call them. Soundarya asks Sourya to come with her and says she is living in a lie. Sourya doesn't agree with that. Soundarya questions Indrudu and Chandramma on why are they going along with Sourya. Indrudu says they just want to see Sourya happy and are doing whatever she is asking. Soundarya says that's the mistake they are doing.
Episode ends.
Precap – Deepa to asks Karthik not to say anything when she is going to argue with Mounitha today. Karthik agrees. Mounitha sees Karthik and Deepa inside and thinks of how to divert Soundarya. Mounitha invites Soundarya inside. Deepa sees Mounitha and comments on her.