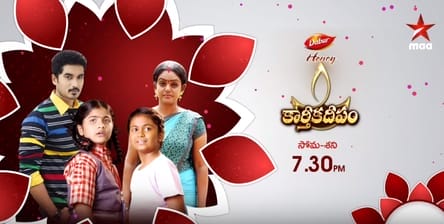 Karthika Deepam 17th September 2022 Written Update on TellyExpress.com
The episode starts with Doctor and her mother talking about Deepa. Doctor's mother sees Deepa coming. She mentions it to the doctor. Doctor asks Deepa why is she here as she went to get medicine for Karthik. Deepa says there is no medicine it is just a trap of Mounitha. The auto guy said to me that the address is wrong. Doctor and Deepa talk about it. Doctor's mother asks Deepa if she went to see Karthik. Deepa says she went to see Karthik. The doctor's mother asks Deepa to watch Karthik and Mounitha. Deepa agrees and leaves.
Mounitha calls Siva and tells him to take care of Karthik as she will leave for 2 days. Siva agrees. Siva asks Mounitha why couldn't she take Karthik with her. Mounitha calls Aparna and acts like she needs another driver cum assistant. Siva understands and apologises to her. Mounitha leaves telling him to take care.
Indrudu brings the grocery stores to the house. Sourya asks if he brought all the goods. Indrudu says he brought all the goods. Sourya asks why are all these goods bought. Chandramma says to Sourya that they are people coming beside our house.
They asked us to cook. Sourya recalls her mom and talks about her saying she also helps others just like her. Sourya and they talk about her parents. Sourya sees the handwriting of the goods and says it is looking just like her mother's handwriting. Chandramma says some people's handwriting will be the same. Sourya says but the voice and handwriting are the same it is not possible. Sourya leaves. Chandramma asks Indrudu if the woman he picked can really be mother of Sourya. Indrudu comments on it and says Sourya is just thinking like that.
Anandrao and Soundarya talk about Mounitha and why did she leave Anand with Lakshman. Anandrao says she could have left Anand with us. Soundarya says if she did that she wouldn't be Mounitha. Soundarya comments on Mounitha. Hima reminds both her grandparents that Mounitha asked Lakshman and Aruna not to give her child to anyone that's why they didn't give Anand to her. Soundarya says to Hima there is no need to worry as we will bring our grandson today.
Mounitha is shown that she came to Lakshman and Aruna and told them that she would take the child with her. Lakshman and Aruna talk to Mounitha and say they have Anand till now so they are having trouble adjusting to what she said. Mounitha hearing this feels happy and understands that they looked after Anand like their own child. Mounitha says they can take the child back after some time.
Mounitha says they can keep the property. Lakshman and Aruna say they don't need her property and say she can take back her property. Mounitha says she will bring Anand whenever they want. Lakshman says there is no need for it. Mounitha leaves with Anand in her car. After she leaves Anandrao and Soundarya come to Lakshman's house. Soundarya comes and asks Lakshman where is her grandchild. Lakshman and Aruna say that Mounitha came and just took Anand away. Aruna says to them Mounitha is kind person as she left her property to look after Anand while she took back Anand she didn't take back property.
Anandrao and Soundarya talk bout what to do. Anandrao says we came here to take Anand but Mounitha took Anand away so we can't do anything. Soundarya asks Aruna to tell her if Mounitha or Anand comes back. Aruna agrees.
Karthik is shown humming some old songs. Siva comes and asks Karthik if he is happy that Mounitha is not here. Karthik slaps him and says "when did I say I will be happy that Mounitha is not here." Siva apologises to Karthik.
Deepa goes to see if Karthik is there or not. Siva stops him and says that she can't meet Karthik. Deepa says she came here to meet Mounitha. Siva says Mounitha is not here. After questioning Siva, Deepa understands that Mounitha has gone to Chennai on some work and if she is here then she might do something to Karthik. Deepa decides to use this chance to her advantage.
Episode ends.