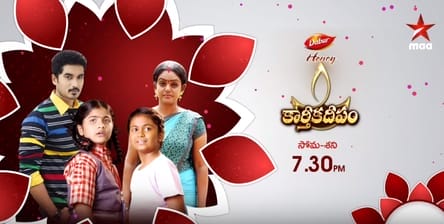 Karthika Deepam 18th January 2023 Written Update on TellyExpress.com
The episode starts with Deepa feeling suspicious of Soundarya's behaviour. Soundarya asks Deepa to sit down and she will serve them. Soundarya asks Deepa not to step into the kitchen until she tells her and makes up a reason for it. Deepa thinks Soundarya is acting just like Karthik. Sourya asks everyone to come as she has to go to the temple. Soundarya says she is going to the hospital and asks them to go. Hima says she also will not come as she has work.
Deepa sees that Soundarya is preparing coffee while having tears in her eyes. Soundarya sees Deepa and makes up a reason for having tears in her eyes. Deepa asks Soundarya to come.
Deepa makes Soundarya sit down and says to Soundarya there is no need for her to act anyomre. Deepa says she already found out that she knows the truth. Soundarya still acts like she doesn't know what Deepa is talking about? Deepa shows her health file to Soundarya. Soundarya seeing this feels emotional. Soundarya thinks why do all these problems come to them all the time. Deepa reminds Soundarya of the oath she gave last time. Deepa asks Soundarya to do another marriage to Karthik. Soundarya asks Deepa what is she talking about? Deepa reminds Soundarya that she is going to die soon. Deepa says Mounitha will not allow them to live peacefully and will do anything to get Karthik. Soundarya says if Mounitha becomes a problem they will eliminate it and they will think of a way to save her. Deepa reminds Soundarya it is not possible to save her. Deepa sees Sourya coming and tells about it to Sourya. Sourya comes and asks Deepa if she is ready. Deepa says yes.
Mounitha thinks after she tells the truth to Hima. Hima will force Karthik to agree to her proposal and after that she can execute her plan.
Deepa asks Karthik how does Soundarya know about her health. Karthik asks Deepa if Soundarya told her. Deepa says she asked Soundarya about it. Karthik thinks they shouldn't have met Soundarya and others. Deepa comments on it and says she told what she has to say to Soundarya. Karthik asks Deepa what did she say to Soundarya? Deepa doesn't tell Karthik about it. Sourya comes and asks them if they are ready. They talk about Hima and think where did she go?
Hima comes to meet Mounitha. Mounitha offers Hima to take some snacks. Hima asks Mounitha what is the secret that she's talking about last time? Mounitha acts as if she is hesitating and tells Hima that Deepa is going to die soon. Hima gets emotional hearing this. Mounitha later tells Hima that she can save Deepa but Karthik is not agreeing for her to save Deepa. Hima asks Mounitha why is that? Mounitha says she doesn't know. Mounitha asks Hima to convince Karthik to allow her to save Deepa. Hima praises Mounitha and says she will do anything to save Deepa. Hima leaves from there.
Sourya asks Karthik behind the reason for not coming to them till now. Karthik diverts Sourya. Sourya asks Karthik to promise her that he willl not leave again. Karthik says he will be where ever Deepa is. Sourya agrees. Deepa tells her problem to Pandit. Pandit encourages Deepa to stay strong.
Episode ends.