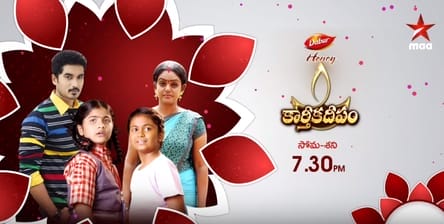 Karthika Deepam 18th November 2022 Written Update on TellyExpress.com
The episode starts with Soundarya questioning Indrudu and Chandramma on why they are going along with Sourya. Indrudu says they just want to see Sourya happy. Soundarya says i.e. the mistake they are making. Soundarya asks Sourya to come with her. Sourya doesn't agree to that and asks Indrudu to talk to Soundarya.
Soundarya asks Indrudu to convince Sourya to come with her. Soundarya says she has some work and says she will come after taking care of it. Indrudu agrees. Soundarya leaves from there. Indrudu thanks Rajamma for allowing him to tell Soundarya this is their house. Indrudu says to Rajamma to tell Soundarya they used to live in the house beside them and says to tell Soundarya she doesnt know where they went. Rajamma agrees. Sourya feels guilty for lying to Soundarya. Indrudu comforts Sourya.
Deepa and Karthik talk about Mounitha. Deepa asks Karthik not to interfere when she is going to argue with Mounitha. Karthik agrees. Mounitha thinks Karthik recalled his past and left with Deepa and Durga took her car keys so that she will not follow them. Soundarya comes to Mounitha's house.
Mounitha greets Soundarya and says she lost the house keys and that's why she is looking for them. Soundarya asks Mounitha to come with her to her hotel room and asks Mounitha to start her car. Mounitha says she also lost the car keys. Soundarya slaps Mounitha and asks her what is she hiding? Soundarya says she will find out and tries to open the door lock by force. Mounitha sees that Deepa and Karthik are in the house. Mounitha thinks she will lose Karthik if Soundarya sees them and hits Soundarya with a rice pounder from the back. Soundarya falls unconscious.
Sourya feels guilty for lying to Soundarya and decides to tell the truth to Soundarya and request Soundarya to allow Sourya to stay here. Chandramma thinks of how to convince Sourya to leave from here.
Siva thinks of what is the connection between Mounitha and Soundarya and why did Mounitha hit Soundarya on the back of her head and did first aid to her. Siva prays to God to make sure Soundarya doesn't get consciousness before they reach Hyderabad as Mounitha asked Siva to drop Soundarya in Hyderabad and come back.
Deepa recalls what Mounitha said and thinks Mounitha might be trying to burn the house with petrol like Vaani did last time and decides to go out and see what is going on. Deepa sees blood on the floor. Deepa shows the blood to Karthik. Karthik thinks Mounitha might be hurt. Deepa thinks Mounitha might have hurt someone. Karthik says Mounitha will only hurt when someone tried to stop her or someone will make a problem for her seeing them together.
Mounitha comes to Karthik and Deepa and asks if they came out satirically. Deepa asks Mounitha where did the blood come from. Mounitha says she should ask that question. Deepa and Mounitha argue about it. Karthik asks Deepa to leave. Deepa reminds Karthik that he agreed he will not interfere when she is arguing with Mounitha. Karthik shows the blood and says something happened here and says this is enough for today and asks Deepa to leave. Deepa asks Karthik to hit Mounitha to make her reveal the truth and leaves from there. Mounitha questions Karthik about it.
Episode ends.