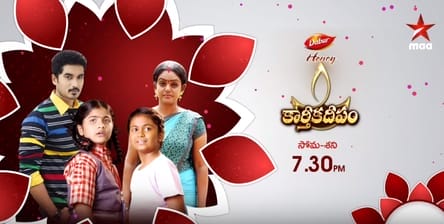 Karthika Deepam 19th November 2022 Written Update on TellyExpress.com
The episode starts with Chandramma asking for Sourya to eat something. Chandramma asks Indrudu where did he go? Indrudu says he was taking care of something. Indrudu asks Chandramma to get ready. Chandramma says Sourya is staying here for Soundarya. Indrudu says it will be problematic. Chandramma asks Indrudu to think of a way to take Sourya away.
Indrudu agrees. Indrudu comes into the house and asks Chandramma to get ready as it will be late for the last bus. Indrudu also asks Sourya to eat the food quickly. Sourya says she will wait for Soundarya. Indrudu says Soundarya won't come and says he met Soundarya outside. Indrudu says she told him to bring whenever Sourya wants to come to them. Sourya hearing this feels sad as she thinks her grandparents are forgetting about her. Indrudu and Chandramma comfort Sourya and ask her to get ready.
Soundarya recalls what happened and thinks Mounitha is lot more daring than she thought as Mounitha hit her head from the back and left her on the outskirts of Hyderabad. Anandrao also comments on Mounitha. Soundarya suspects Mounitha's behaviour and says a conjecture that Karthik might be alive and Karthik is with Mounitha. Anandrao asks Soundarya to think of a way to find out the truth from Mounitha. Soundarya says she will think of a way.
Mounitha prays to God to allow her to know if Karthik recalled his past or not. Durga also comes and asks God to grant his wish. Mounitha seeing Durga argues with him on why he is disturbing her and what does he want? Durga asks Mounitha on whose head did she hit as there are blood marks when Karthik and Deepa came out of the house? Mounitha denies hitting anyone. Durga insists on Mounitha for an answer. Mounitha asks what will he do? Durga says he will just continue the torture and teases her.
The doctor checks the wound of Soundarya and says she has to rest for 4 to 5 days if not it will affect her nerves. Doctor leaves from there. Anandrao and Soundarya think about the possibility that Karthik and Deepa might be alive and Mounitha is doing something to them. Anandrao asks Soundarya if he should go. Soundarya says no and says we have to handle Mounitha carefully.
Siva comes and greets Mounitha. Mounitha asks Siva why is there a difference in his greeting. Siva says she should talk to the police. Mounitha asks Siva if he dropped Soundarya in the outskirts of Hyderabad or not. Siva says yes and asks Mounitha who is Soundarya.
Karthik thinks of who might those blood marks belong to. Mounitha gives 1 lakh to Siva to keep his mouth shut. Karthik comes and asks Mounitha why is she giving money to Siva. Mounitha says she is giving the Supari to Siva to kill Deepa. Karthik hearing this gets angry.
Episode ends.