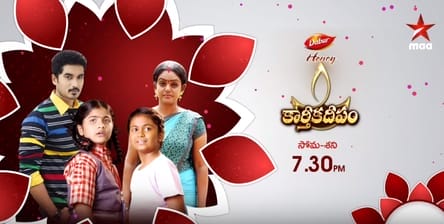 Karthika Deepam 19th October 2020 Written Update on TellyExpress.com
The episode starts with Deepa cries and feels frustrated thinking Karthik words that his wife is dead and thinks it's better to commit suicide than Living without self respect. Soundarya asks what's she doing in the Terrace. Deepa tells Soundarya that Karthik told to Hima that his wife is dead when Hima asked him about his wife and it's better to be dead because my heart is paining badly.
Soundarya asks her to won't loose her confidence. Deepa says your son is killing my heart again and again with his words. Soundarya asks Deepa to come downstairs saying she will teach his son a lesson. Deepa says I will leave from here. Soundarya consoles her and asks her to not forget her goal and takes her downstairs.
Karthik sees Sourya eating food and asks why she is having food alone. Sourya getsup says I'm feeling hungry so I'm having the food because I'm hungry. Karthik asks her to sit and says I just asked you to know why you're eating alone, you can call Hima to accompany you so don't getup and gave your food. Sourya eats her food quickly. Hima thinks why Karthik don't like Deepa and Sourya? Why Grandmother Is not saying anything.
Murali Krishna gets ready and about to leave but gets shocked seeing Bhagyalakshmi dreaming about one Crore and thinks whether it's true.
Next day Aditya comes to his Mom and says he is worried for her and his sister in law. Soundarya says Deepa is bearing so much and your brother is not understanding her. Aditya says how many days sister in law can bear our brother taunts? Shravya told me that Deepa vadina wants to leave from here, let her leave atleast she can live happily. Soundarya says how can she live happily in Poverty? I'm unable to see their condition and if she stays here atleast she can share her grief with me.
Aditya says Sister in law can't stay here happily because brother won't accept her in this life. Soundarya says already everything is out of hand and that Mounitha is planning new plans so I must adjust everything but my heart is getting injured while I'm thinking how to adjust everything. Aditya too feels sad seeing her Mom state.
Priyamani asks why Mounitha is getting ready. Mounitha says she is going to Karthik place. Priyamani says Deepa may slap you again if you go to her place so stay silent for sometime and plan everything from your home inviting Karthik to your place. Mounitha looks on.
Karthik searches for something. Deepa says I know what you're searching and shows his car keys and says that she wants to talk with him. Karthik says he don't want to talk with her. Deepa says I'm already in rage so don't increase my frustration. Kartik asks why she is saying this very normally. Deepa says I lost my patience and I'm dead this is I want to say.
Karthik says are you mad? What are you talking. Deepa says create coffin for me with Dob and Dod. Karthik calls his Mom. Deepa says your Mom already know it in the last night. Karthik says I'm calling her to take you to the hospital because you're talking very strangely. Deepa says you must take me to burial ground not to hospital because I heard your convo with Hima and you said your wife is Dead? How am i died Doctor babu? And why you told her in that way.
Karthik says Hima is asking repeatedly so I told her in that way. Deepa says now you're fine in Infront of your daughter Hima because she won't ask you anything but what if Sourya heard your convo? She knows that you're her Dad and I'm your wife and she may reveal to Hima about our relationship than what happens to your image Infront of Hima? How many lies she gonna bear it? What if Hima questions you again asking why you lied to her?
Don't worry i will leave from here and one day you will know the truth and than you will accept me as your wife and Sourya as your daughter. Karthik says until now I felt guilty but now it's gone and don't dream these kind not things and about to leave. Than Deepa asks him to take car keys. Karthik frustratedly goes inside.
Precap – Hima takes everyone to upstairs and shows Karthik marriage pic with Deepa. Everyone gets shocked with Hima questions.