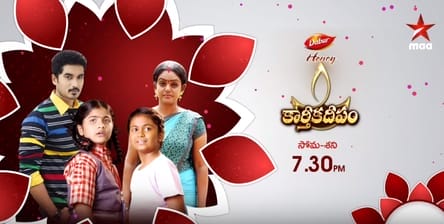 Karthika Deepam 1st July 2022 Written Update on TellyExpress.com
The episode starts with Anandrao saying to Jwala that they will look for a good match for her. Jwala shouts at Anadarao and says he is an elder it's my mistake to shout on him. I thought Nirupam as my husband and I couldn't imagine other person in his place. I don't have a sister now I won't have marriage in my life. Jwala says not to talk about this topic.
Hima looks at their parents photo. Jwala looks at her father's photo. She shares her sadness with him. She tells her feelings with Nirupam. Hima tells that she couldn't do anything in Sourya's matter. Jwala says she was deceived. Hima says she couldn't keep her word to them. Jwala says she ran away from home and she changed her name and is living and in this kind of life Nirupam came. I felt like he gave me new life. I was deceived. Tingeri deceived me.
How Monica aunty deceived and got near you and I think she did it like that. Hima feels sad for Sourya. Jwala asks his dad what to do. Hima says Dad Sourya used to love you a lot. If she wants to be happy we can only marry her with Nirupam. Hima says she decides to ask Soundarya to help for Nirupam and Sourya. Jwala says she will fight alone even if there is no one there for her.
Soundarya says just because you like Sourya taking this kind of decision is not right. Anandrao says from childhood you and Nirupam loved each other. Hima says for Sourya's situation today she is directly or indirectly responsible and asks for them to support her. Soundarya says you are thinking about Sourya and not thinking about Jwala.
Hima says Sourya has anger on me that I killed our parents. If I want to do something for her besides this I can't do anything for her. Soundarya says we can atleast talk to her. Anandrao says he is not a toy to give to Sourya. Hima says she understood they will not help in Sourya and Nirupam's matter. She will do what she to do and asks them not to trouble her.
Jwala gets a call from Durga. Durga says Ravva idli had an accident and he brought him home. Hima asks Ravva idli what are you seeing. Anand says when someone gets hurt every one will come to see him right. Anand asks if she will come everyday.
Hima says coming everyday is difficult. Anand says if Hima and Jwala came he will be happy. Anand asks not to give her injection. Hima says she also used to be afraid to give injection but Jwala gave me courage. Anand says when I think of Jwala I also get courage. Anand says when you did injection I didn't feel any pain.
Hima says this is the magic in Jwala's name. Jwala comes and sees Hima treating Anand. Jwala puts the money in Anand's hand and tells him you are having treatment right give it to her. Anand asks if they will come together until he gets better. Jwala goes out and Hima stops her. Jwala asks her to leave her hand. Hima doesn't and asks her to listen to her.
Jwala asks what are going you to say. Are you going to tell how you made a fool out of me. Are you going to tell how you stole my love. Hima says I will tell you not to forget Nirupam. Jwala gets surprised hearing what she said and later drives the auto away. Jwala thinks now they are getting married and now she is talking like that she thinks I am mad.
Episode ends.
Precap – Jwala asks for a change of Rs 500 when he turns back it is shown to be Nirupam. Nirupam gives her the change. Jwala thinks this money touched Nirupam's hand whom I love I am not going to spend this. Nirupam sees the Rs 500 note and says to Hima no matter how I try I couldn't get rid of this note. Some people are also like that right Hima.