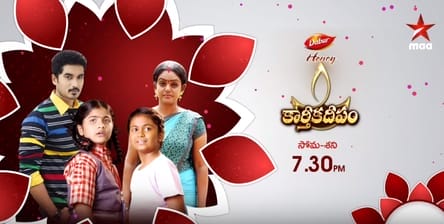 Karthika Deepam 1st November 2022 Written Update on TellyExpress.com
The episode starts with Indrudu thinking about Sourya. Deepa prays to God to make sure that it is Sourya and to make Karthik recall his past after seeing Sourya. Karthik recalls seeing Sourya with Varanasi and prays to God for Deepa's wish to be true.
Indrudu takes the pastries from Karthik and Sourya. Sourya is shown to be in the ritual. Deepa feels hopeful to meet Sourya. Indrudu invites them inside. Indrudu calls Chandramma. Chandramma goes to meet Indrudu. Sourya feels something and tries to go outside. Chandramma stops and says she shouldn't go outside. Chandramma asks the ladies to take Sourya inside. Chandramma greets Deepa and Karthik. Indrudu tries to introduce Chandramma to Deepa and Karthik. Chandramma says she knows Deepa and says about how much Jwala came and changed their lives.
Indrudu asks Chandramma to bring Jwala. Chandramma goes and brings another girl saying she is Jwala. Deepa feels upset seeing that Jwala is not Sourya. Indrudu thinks of why Chandramma is telling lies. Chandramma asks them to give their blessings. Deepa gives her blessings to the girl. Sourya is shown to be in a room with a few ladies. Karthik also gives her blessings to the girl. Deepa asks Karthik if they can go.
Deepa feels extremely disappointed seeing it is not Sourya. Sourya comes out of the room and tries to go outside but Chandramma stops her. Deepa and Karthik leave from there in a car.
Indrudu questions Chandramma on why didn't she allow Sourya to meet her parents. Chandramma says she is worried about him. Indrudu asks Chandramma if she can live without Sourya. Chandramma says she can live and says he can't live without Sourya. Chandramma asks Indrudu not to raise this topic infront of Sourya.
Deepa cries to herself. Karthik tries to console Deepa. Karthik says she might have mistaken seeing Sourya with Indrudu. Deepa asks Karthik how can it be not Sourya. Deepa says she heard Sourya's voice there. Karthik says she was thinking about Sourya all the time that's why she is mistaken. Karthik also feels suspicious and decides to check again.
Episode ends.
Recap – Mounitha to think Karthik recalled his memory. Deepa comes and gives a left and right to Mounitha. Karthik comes to Indrudu's house. Karthik asks Indrudu if he saw these people and shows Varanasi and Sourya's photos. Indrudu gets shocked seeing the photos. Sourya looks from the window.