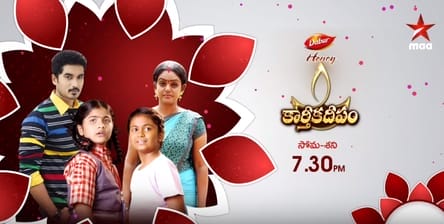 Karthika Deepam 21st November 2022 Written Update on TellyExpress.com
The episode starts with Karthik asking Mounitha why is she giving money to Siva? Mounitha says she is giving Supari to Siva to kill Deepa. Mounitha argues with Karthik. Karthik again asks Mounitha why did she give the money to Siva? Mounitha reminds Karthik that she is doing boutique business and says this money is for the material. Mounitha asks Siva to go and give the advance to the material. Siva agrees and leaves from there. Karthik stops Siva and asks Siva if what Mounitha said is true and asks Siva to swear on Mounitha. Siva swears on Mounitha and says this money is advance for the material. Siva leaves from there.
Sourya looks for a Xerox shop. Karthik thinks of why Sourya is staying here and looking for them. Karthik sees that Mounitha is following her and thinks if Mounitha sees him doing surgery then Mounitha will figure out he recalled his memory. Karthik thinks of how to get rid of Mounitha.
Durga comes and asks Deepa why is she still in bed and asks if she is not feeling well? Deepa says yes and says she is not feeling well. Durga goes to make coffee for Deepa. Durga says Mounitha was scared with what they did. Deepa says Mounitha is only scared and says something happened when they were inside. Durga says she already asked Mounitha about it. Durga says Mounitha's denying saying she doesn't know anything about it. Durga assures Deepa that he will find out what happened and asks Deepa to take a rest. Deepa agrees.
Karthik worries about how to get rid of Mounitha. Soundarya recalls what happened and thinks about what is in the house that Mounitha hit her on the head to stop her from going inside. Soundarya goes to see if Anand is sleeping or not? Soundarya says Mounitha is very unlucky as she doesn't have the care to look after him. Soundarya says to Anand on why did Mounitha gave birth to him. Anandrao and Soundarya talk about Mounitha. Soundarya says her decision to go to meet Mounitha. Anandrao rejects her idea and says she can go after some time as she is still under observation. Soundarya agrees.
Deepa thinks about Sourya and Karthik. Deepa decides to search for Sourya but she couldn't as she feels like she doesn't have energy and prays to God to give her some energy.
Indrudu asks Chandramma where is Sourya? Chandramma says she is outside. Indrudu says Sourya is not outside. Indrudu and Chandramma worry about where is Sourya? Sourya comes and greets Indrudu. Indrudu asks Chandramma where did she go. Sourya says she went to the Xerox shop. Indrudu sees the poster Sourya made and gets shocked.
Episode ends.