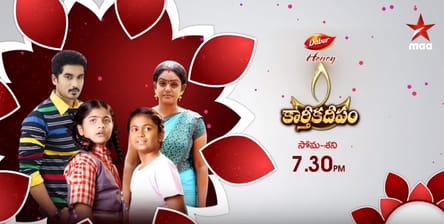 Karthika Deepam 22nd June 2022 Written Update on TellyExpress.com
The episode starts with Soundarya trying to stop Swapna from saying something hurtful. But Swapna doesn't listen. Hima says she doesn't her kindness. Nirupam tries to explain. Swapna asks Nirupam to marry Shobha. Hima says Nirupam will not marry Shobha. Swapna gets and leaves them. Nirupam goes after her.
Soundarya starts questioning her again about why did she lied. Hima says it's because of Sourya.
Anandrao and Soundarya ask why she is saying Sourya. Hima says she knows where Sourya is. Soundarya asks why she had not told her till now. Hima says you need to know a lot before you know about Sourya's details. Hima says they have to go to a place. Jwala waits for Nirupam in the Ashramam.
Nirupam comes to meet Jwala. Jwala says she is angry with him as he will not take my calls. Nirupam says first listen to what I have to say. Jwala asks what did I make mistake. Nirupam says the mistake you made is putting your hopes on me. Jwala asks about it. Nirupam says he has another person in his heart.
Soundarya and Hima see that Jwala and Nirupam are arguing. Hima says Jwala is Sourya. Hima says Jwala loves Sourya and now he is rejecting Jwala. Jwala and Nirupam argue about it. Jwala asks if he is joking. Nirupam says he is not joking and he got engaged. Jwala asked then why did you put feelings in my heart. Nirupam says you misunderstood me it's not my fault. Jwala says the things he praised.
Jwala holds his collar and what is this. Jwala asks why did he buy an auto for her and asked her to talk nicely. Jwala says I was a girl you reminded me of. What is this? Nirupam says this is not love. Jwala asks if it is her mistake. Nirupam says yes. Nirupam asks to come to his marriage. Jwala says she knows a heart is enough to love someone and why don't you know this. She asks if he is going to marry a doctor. He agrees. Jwala asks if you are going to marry Shoba.
Nirupam says no. Jwala asks if it is Tingri. Nirupam stays silent. Jwala says how can this be. Jwala says it's a joke right. Nirupam says he is going to her only as he loved her. Nirupam says it's attraction only. Jwala says how can you know it's attraction and not love she says it's love. Nirupam says it is not if you imagine everything. If you paint with blood the drawing will come but not love. Jwala says your words are a lie. You and Tingri are both a lie. Nirupam leaves Jwala. Jwala falls on her knees.
Episode ends.
Recap – Nirupam thinks to himself sorry Jwala you misunderstood me. Jwala is in depression thinking of what happened. Soundarya comes and asks what happened. Jwala says if everything is right then she would have become a doctor's wife. Jwala says how much she loved Nirupam by showing the painting that she made of him with her blood. Soundarya feels sorry for her and hugs her.