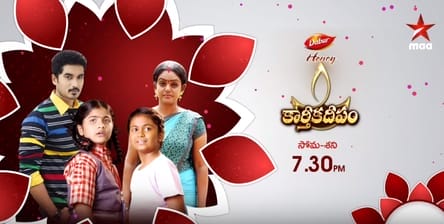 Karthika Deepam 22nd September 2022 Written Update on TellyExpress.com
The episode starts with Anandrao crying while reading the letter from Hima that she is leaving to stay with Sourya. She asks him not to search for her. Anandrao gets emotional. Deepa follows Mounitha's car. Mounitha thinks I know you will follow me and smirks. Anandrao calls Soundarya and informs her that Hima left the house leaving the letter.
Soundarya asks him to not worry as Hima may come here to stay with Sourya. She asks him to return so they can search. Anandrao agrees. Mounitha shows a board of their names and tells Karthik that it used to be their shop in the past but we closed it as here business is low and started a boutique. She says she will make him meet the relatives and people he knows. Deepa sees the board and thinks Mounitha is planning something.
Mounitha makes Karthik meet the villagers and they talk like they know them well. Karthik thinks he can trust Mounitha. Deepa thinks she has to stop Karthik before Mounitha makes Karthik believe her lies. Deepa comes there and asks Karthik to not believe Mounitha as this is not your village.
Village people ask Mounitha didn't Vantalkka didn't leave them till now? They tell a fake story that Deepa is behind him for ages leaving her husband who is Rmp Doctor. Deepa says I'm your wife and these people are telling lies and this village and people are arranged by Mounitha to make you believe her lies. Karthik asks her to stop. He says the whole village is saying the truth and he warns her to change. Kaveri comes there and takes Mounitha and Karthik with her. Deepa thinks that her situation as Mounitha created him a fake past and now he will live in it without trying to remember his past.
Anandrao tells Soundarya how bad he is feeling. That time Soundarya gets to know Mounitha's number from Si through a call. Another side Mounitha thinks now Deepa can't do anything. She asks Karthik how is their village. Karthik says I felt happy meeting them and sorry for doubting you. Mounitha thinks now Karthik belongs to me and no one can separate him from me. That time she receives call from Soundarya.
Soundarya asks who's she. Mounitha asks her to answer who's she. Karthik drops the doll while setting the saree. Soundarya says I'm Soundarya. Mounitha shouts Karthik to be careful forgetting about the call. Soundarya tells her husband about it and they rush to Mounitha's place. Karthik asks why she looks tense after receiving a phone call. Mounitha says I'm tired because of the journey. Karthik asks her to sleep but Mounitha denies it.
Episode ends.