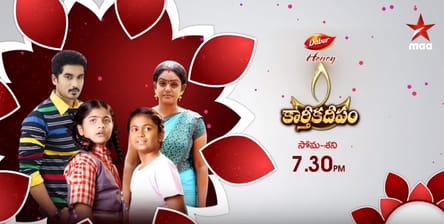 Karthika Deepam 23rd June 2022 Written Update on TellyExpress.com
The episode starts with Jwala saying they are both liars. Nirupam walks away. Jwala falls on her knees. Soundarya tries to go to Hima. Hima asks her to leave her alone. Hima says she will not die. Hima asks her to leave. Hima also falls on her knees. Hima walks on the road getting lost. Hima thinks of what she did but it is to no avail.
Hima blames herself and thinks she is defeated. A van comes and Prem saves her from it. Prem asks her about it. Hima says she is already dead. Hima asks what he is thinking. Prem says he can't ask about his life. Prem says we can happily with what we have. Hima it's not for her. Prem takes Hima to her home.
Jwala thinks of what happened and about Nirupam and Hima. Jwala blames the God for everything as he took everything from her. Jwala asks now what does she need to do. This pain will not go away even if you cry. Jwala blames Hima for everything. The knife that I made has stabbed me. I taught her wisdom and now she is using it on me. Jwala gets a call Hima cuts the phone.
Jwala picks up Hima's phone she needs to change her name to Mosakari. Jwala blames Hima and she lied to her and betrayed her. Hima says she misunderstood. Jwala says now she has two enemies. Jwala tells her not to call again. Hima sees their photo together. Soundarya sees Hima. Jwala starts breaking things in anger.
Hima shows the photo to Soundarya. She says from when she knew Jwala is Sourya she talks with the photo. Hima shares her memories of Sourya with Soundarya. Hima says Sourya went out of the house because of me. I thought Hima will return one day and we will be together. Soundarya says it's like she is telling her wishes. Soundarya asks how did know Jwala is Soundarya.
Hima says she found about her when she give blood from then she tried to ease the relationship between us. She says she once saw her and Sourya together. She will Soundarya once their relationship eased. Hima says if she identifies her then she will run away that's the reason I hid my identity from her and did not bring her to the house. She found once that Jwala likes Nirupam and then she changed her heart. Hima says if she knows what their parents said before their death. Hima said it is to take care of Sourya.
Episode ends.
Precap – Nirupam will think to himself sorry Jwala you misunderstood me. Jwala will think of what happened. Soundarya will come and asks what happened. Jwala will say if everything is right then she would have become a doctor's wife. Jwala will say how much she loved Nirupam by showing the painting that she made of him with her blood. Soundarya will feel sorry for her and hugs her.