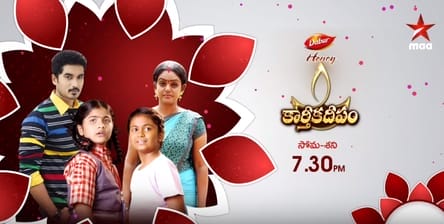 Karthika Deepam 23rd November 2022 Written Update on TellyExpress.com
The episode starts with Durga questioning Mounitha for an answer. Mounitha says she doesn't know. Karthik comes and asks Mounitha what is she talking about? Durga says to Karthik that Mounitha is talking to him and says Mounitha locked her inside and he asks her why she did this? Durga misleads Karthik. Mounitha says to Karthik that Durga is Deepa's man and asks Karthik not to believe him. Karthik reminds Mounitha she is the one who brought Durga into the house saying he is her relative. Karthik argues with Mounitha and leaves from there. Durga gives Mounitha the keys as his drama is over and asks her to open the door. Mounitha throws the keys at Durga in frustration.
Sourya feels emotional seeing the posters that she made thinking about her parents. Chandramma and Indrudu ask Sourya to eat something. Sourya says she is not in the mood. Chandramma says they have to go to the temple. Sourya asks why are they going to the temple? Chandramma says to Sourya about her daughter who died after she was born. Chandramma says tomorrow is her birthday and they talk about it.
Chandramma and Indrudu say they feel Sourya is a God given gift and says they only got out of the grief because of her. Chandramma makes a request to Sourya and asks Sourya if she will call Chandramma mother as she never had a chance for it. Sourya getting this feels angry and leaves from there. Indrudu and Chandramma talk about it.
Karthik sees Deepa packing her bags. Karthik asks Deepa where is she going? Deepa says she is going to Sanga Reddy as she nearly met Sourya there last time. Karthik asks Deepa to stay for a day and says he will also come with her tomorrow. Deepa says no. Mounitha eavesdrops on them talking and thinks it is a good chance to make Karthik forget Deepa as she is leaving and Karthik is not going with her. Karthik gives Deepa some money as travel charges and says he will come in a few days.
Soundarya is shown to be packing her bags. Anandrao reminds Soundarya that she still doesn't have the doctor's permission to leave from here. Soundarya says she is just packing as she is free and says she will leave after the doctor's permission. Hima comes and says she will also come with Soundarya. Soundarya tells Hima to properly study here. Anandrao also says to Hima that Soundarya will not take Hima.
Deepa comes to Sanga Reddy. Deepa says to the maid Hema Chandra sent him. The maid says Rajya Lakshmi told her about Deepa. The maid gives the keys to the house and leaves from there. When Deepa enters the house she sees Karthik's photo has a garland on it. Deepa looks for the maid to talk to her about Karthik's photo but she sees that the maid has left. Deepa thinks if someone did it intentionally or if it is a coincidence to see Karthik's photo here like this.
Mounitha asks Karthik if he will eat tiffin. Karthik says his stomach is already full with her antics and blames Mounitha for her behaviour with Durga. Mounitha raises her hand to slap Karthik as she gets angry. Mounitha apologises to Karthik as she nearly slapped him. Mounitha says to Karthik not to blame her for things she didn't do.
Episode ends
Precap – Deepa to search for Sourya in Sanga Reddy. Deepa sees the poster prepared by Sourya and understands Sourya is also searching for them. Deepa has tears in her eyes seeing this.