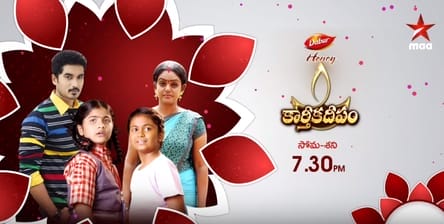 Karthika Deepam 23rd September 2022 Written Update on TellyExpress.com
Deepa cries to herself feeling sad thinking of what happened with Karthik. Deepa says to the doctor how helpless she is today. Doctor asks her not to talk like that. Deepa loses her motivation. Doctor still tries to encourage her saying to bring Karthik away from Mounitha forcefully. Deepa says if she does that then the one who is going to stop her is her husband himself. Doctor says to Deepa to do whatever she can to bring Karthik to the hospital. He says to Deepa once Karthik recalls his memories then Karthik will come out of Mounitha's hands. Deepa agrees.
Mounitha thinks about whether Soundarya got suspicious of her or not. Mounitha sees Soundarya coming so she asks Siva to take Karthik to the backyard and asks him to make sure Karthik doesn't come outside. Siva takes Karthik to the backyard. Mounitha greets Soundarya and Anandrao. Soundarya and Anandrao look around. Mounitha asks them what are they doing here. Soundarya talks for a while and says she is still suspicious of Mounitha and asks her "just because Karthik died here you just left everything and came here".
Mounitha makes up a reason and covers it. While Mounitha is talking to Anandrao and Soundarya, Karthik comes looking for his phone. Mounitha sees Karthik and panics. Karthik sees Anandrao and Soundarya and feels like he saw them somewhere. Karthik tries to go meet them but Siva stops him and takes him aside. While all this is going on Deepa comes to Mounitha's boutique looking for Karthik. Mounitha brings Soundarya and Anandrao into the house and shows them.
Anandrao sees Deepa and he says about it to Soundarya. Mounitha diverts him saying she also saw Karthik all the time. Soundarya questions Mounitha about why did she call Karthik's name on the phone and what is she hiding? Mounitha says she will clear her doubts and says she will show Karthik. Mounitha shows them Anand and says after Karthik died she changed Anand's name to Karthik and saying while she is talking on the phone Anand is about to fall that's why she said she took Karthik's name.
Karthik talks to Siva and says when he saw he felt like he knew them. Deepa heard this and thinks Karthik recalled his memory about her and goes to ask him if he recalls her. Karthik says to Deepa that it is not her and says someone came today I am talking about them. Karthik leaves.
Mounitha sends Anandrao and Soundarya away. Karthik sees the car leaving and asks them to stop. But the car doesn't stop. Karthik asks Mounitha who are they? Mounitha says they are customers. Deepa comes behind Karthik. Mounitha asks Deepa when did she come? And asks Karthik if he called her. Karthik says he didn't and walks away from there.
Deepa holds Mounitha's neck for a while and leaves and asks her who came now. Mounitha says it is Soundarya and Anandrao who came here in a satirical way. Deepa says the day that game is over will come soon and walks away from there. Mounitha feels relieved as Soundarya and Anandrao didn't see Karthik. Mounitha decides that she has to be careful.
Episode ends.