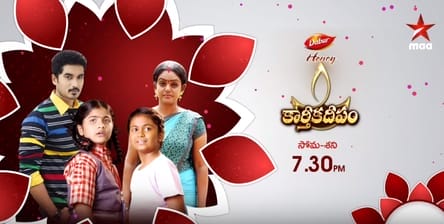 Karthika Deepam 24th August 2022 Written Update on TellyExpress.com
The episode starts with Deepa and Mounitha inquiring about Karthik's whereabouts in the park but they didn't get any information. Mounitha shows Karthik's photo to Deepa to inquire about his whereabouts. Deepa gets angry seeing her. She holds Mounitha's neck in anger. Mounitha makes her leave. She says you're alive so Karthik is also alive. Deepa asks why she took Karthik from the hospital. Mounitha says she didn't take Karthik but according to your words he is alive so I'm so happy, tell me where is Karthik?
Deepa asks her to stop her drama. She says hospital people said some lady took Karthik with her saying she is his wife and I thought you can't be that person as Doctor baby hates too but after seeing you here I got confirmation that it's you, so tell me where is he. Mounitha asks why will she search for Karthik if he is with her. She asks who might take Karthik. Deepa asks her to stop the drama and insists on her to tell her where is Karthik. Mounitha says Karthik is not with her and questions can't she see her pain. Mounitha asks Deepa to think about who might take Karthik. She cries for Karthik. Deepa stands confused.
Hima sees her parent's photo and reminisces about the accident. Soundarya asks Hima to not cry as her parents can't hear it so stop thinking about them. Hima says they won't come but I need to think about Sourya. She says she has them but Sourya is alone then how can I stay without thinking about them? Soundarya says Sourya doesn't wish to return so it's needed to stop thinking about them. Anandrao says it's easy to tell but we can't stop thinking about them. He asks Hima to not cry and tells her that he will take her to Sourya.
Soundarya asks where will they go. Do you expect she will be at her old location? Anandrao says they need to search her like before. Soundarya says Sourya won't return until her anger gets cool down. Hima asks what if Sourya returns learning that we vacated the house then how can she reach us? Soundarya says Sourya can reach them through phone numbers and if you don't find Sourya then your grandpa will go to the accident place and feels bad. Anandrao assures her that nothing can happen to him.
Karthik comes out of the car in frustration. Siva asks Karthik to be careful otherwise madam will scold me. Karthik says your madam is not my wife as she restricts me and who will come to walking on the car. Siva receives a call from his madam and tells Karthik to sit in the car. Karthik asks Siva what is this torture for him. Siva says how much his wife loves him. Siva gets a call from Madam. Siva tells Karthik that Madam asked him not to have tension. Karthik asks Siva if she put cameras around him. Siva asks for permission if they can go. Karthik agrees in frustration. Soundarya tells her problems about Sourya and Hima to Karthik and Deepa photos.
Episode ends
Recap – Deepa will see Monica getting down from a car and thinks Karthik is here and she is acting outside but when she goes in she gets surprised.