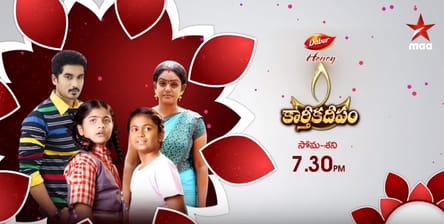 Karthika Deepam 24th June 2022 Written Update on TellyExpress.com
The episode starts with Hima saying how she found out Sourya loves Nirupam. Then I changed my mind. While we are enjoying our life she is suffering. For this, I am the main reason. I thought I fulfill my parent's wishes. I thought I can make up for it by doing it. Soundarya says we think this much about her. Soundarya says she might not have recognized you. But she recognizes me and she doesn't call me grandma. She is suffering a lot. What is she thinking?
Hima says you don't know how much Sourya hates me. Nirupam thinks it's a relief that he revealed that he doesn't love her. Nirupam feels sorry for Jwala. Nirupam thinks Hima is mad to make me marry Jwala because she has cancer. Now he thinks he can marry Hima and take care of her.
Jwala thinks of what Nirupam said. Soundarya comes to Jwala's house. Jwala asks why did she come here. Soundarya says she saw her in Ashramam. Jwala says why did she go there. Soundarya says it is her Ashramam and she runs it with her funds.
Jwala thinks I joined the Ashramam that you run there is no more irony than it. Soundarya asks about what happened at Ashramam. Jwala says if everything was good she would have been become the wife of a doctor. Soundarya asks how can she smile after saying you have break up.
Jwala talks about love. She asks if Soundarya's was love marriage. Soundarya says she can tell her worries with me. Jwala says she doesn't need consoling. Jwala asks if there is only a right to drink for men after breaking up but what is there for women. You don't know right. Soundarya asks her to cry it will relieve pain.
Jwala says it is wrong. If we do that then we might forget about the person who hurt us and talks about Hima. Soundarya thinks she did it for her good but she doesn't understand. Jwala shows much she loved Soundarya by showing the painting of Nirupam she made with her blood.
Shoba and Swapna talk about if it is necessary to marry Hima. Shobha asks Swapna that she can talk to Nirupam directly and ask him to marry her as it is a waste to marry Hima. Swapna says the situation is out of our hands no matter they are not in a position to here. Swapna says what happened with Hima. Shobha thinks about whether she should tell that Hima doesn't have cancer.
Shobha thinks if she did it then Nirupam will marry Hima then she will lose her chance. Jwala asks why are you cooking. Soundarya asks if she doesn't think she can cook well. Soundarya asks if she can make cucumber pickle. Jwala says she doesn't like it. Soundarya thinks I know why you don't like it as Hima likes it.
Episode ends.
Precap – Shobha sees that Hima is alone at night and calls Jwala as Hima. Jwala comes and asks Hima what is her name. Shobha thinks now she will know that tingeri is Hima.