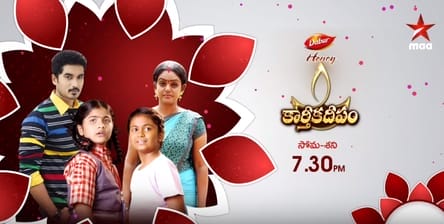 Karthika Deepam 24th September 2022 Written Update on TellyExpress.com
The episode starts with Soundarya asking Anandrao what's he thinking? If he is disappointed learning Karthik is not alive. Anandrao asks how she expected Karthik to be alive and if he is alive then he will come to us. Soundarya says Mounitha changed several colors so I got doubts and suspected her. Anandrao says I'm not thinking about it and I'm thinking Mounitha and Deepa are alike. Soundarya asks why he is talking crazily. Anandrao says Karthik is a good person that's why Deepa waited for many years for him and to regain him and in the same way, Mounitha bore our insults but never left Karthik and now she is seeing Karthik in her son and it's because of Karthik's goodness.
Siva drinks milk. He asks Mounitha if the couple who came is really the parents of Karthik. Mounitha says you don't need to know it. Karthik comes there and asks who are the couple came to meet her. Mounitha says they are Siva's parents. Karthik asks why they didn't meet Siva. Mounitha says Siva cries seeing them that's why they went without meeting him. Karthik asks Siva to grow up and leaves. Siva thinks it's confirmed that Mounitha is not Karthik's wife.
Doctor encourages Deepa that she can get a way to make Karthik regain his memory. Deepa says there is no way. Community ladies invite Deepa to prepare food for the event. Deepa agrees. They leave. Doctor asks what's the need of it. Deepa says I need 10 people's support at this time.
Sourya gives pulihora to Hima and tells her that she can't stay here. Hima says I can stay where you stay. Sourya says you can't stay here so call grandmother and leave. Hima denies it and tells her that she can't live without her.
Mounitha gives coffee to Karthik. She asks what's he thinking. Karthik says I'm thinking about Deepa and why she is not leaving us. Mounitha says let's leave from here. Karthik says if we run away then its like accepting Deepa as my wife so we need to make Deepa leave. Mounitha says Deepa won't leave by herself.
Karthik goes to meet Deepa. He asks Deepa to stop following him and requests her to leave his family. He says everyone saying you're behind us for money so take this money and leave this place. That time he receives Mounitha's call. Karthik tells her he is with Vantalakka and will return in a while. Mounitha thinks about why he went. Karthik offers to give more money to Deepa if she wants and requests her to leave him. Mounitha sees it and feels happy. Karthik asks Deepa to not call him as Doctor babu and my wife is getting scared and wants to leave this city but we won't leave as we didn't do any mistake so leave to your place.
Deepa is about to say what's her place. Karthik says no need for it Nd leaves from here. Mounitha thanks God for changing Karthik. Karthik is about to leave. Deepa stops him. Karthik says you don't need to return the money. Deepa says my husband gave money to me so I have right on it and will buy things what you like on me. Karthik raises his hand. Mounitha stops him and takes him with her.
Anandrao asks Soundarya what's she thinking. Soundarya says she is angry. Anandrao asks why is she angry. Soundarya says to Anandrao that she is angry at herself as she is helpless in her grandchildren's topic. Anandrao encourages Soundarya. Soundarya also decides to call the police and look for their grandchildren in the whole city. Anandrao says so tomorrow we will be with our grandchildren. Soundarya says yes. Deepa prays to God to be with her on what she is going to do.
Episode ends
Precap – Deepa will tell to the colony association that she has a drama and asks them if they play this drama. They ask Deepa to tell about the drama. Deepa tells them. The colony people ask Deepa to play the main character. Deepa agrees.
Deepa will go to Karthik to invite him to see the drama. Karthik asks what is this drama. Deepa says today is their colony anniversary that's why they are playing a drama. Karthik asks Deepa who is her husband. Deepa says if he saw their drama he will know. Karthik agrees to come after hearing this.