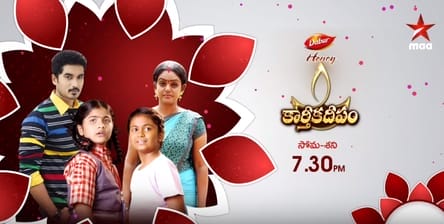 Karthika Deepam 26th May 2022 Written Update on TellyExpress.com
The episode starts with Jwala taking money from Swapna's feet and telling her it's tough if they lose money and relations. She returns the money to Nirupam. She says Swapna to take care of her health. Swapna gets angry. Nirupam takes his mom inside. Shoba tries to warn Jwala but Jwala leaves warning her. Prem thinks about Hima and thinks he has to propose to her. Satyam sees him and thinks something happened to him these days, he asks Prem to sleep properly and asks him to go to his mom if he wants as he doesn't like him to awe gloomy.
Prem says he won't leave him ever and I don't have the patience to handle Mom. Satyam says don't know why Hima refused this marriage, is she get scared of Swapna? Prem thinks she won't have his Mom's problem if she marries him. He thinks to talk with her. Satyam asks what's he thinking. Prem says nothing and asks him to sleep.
Shoba thinks about Jwala. The servant gives her tea. Shoba thinks she has to untie problems one by one and first I have to cut Jwala's friendship with Nirupam otherwise he may get closer to Jwala and marry her so I need to implement my plan to get Nirupam then we can repay the loan of full moon hospital. She plans to stay near Nirupam.
Jwala takes drunken Indrudu to her auto. Soundarya sees them. Jwala tells her he is her uncle. Soundarya asks what if something happens to him. Jwala says he is not listening. Soundarya asks why she is not able to see anger in her face for her uncle. Jwala says he loves me so much and thus drinking is just his weakness and you won't get angry if your son sometimes returns home in a drunken state. Soundarya recalls Karthik. She kisses Jwala for making her recall her son. She blesses her that she will get a good groom.
The next day Nirupam tells Hima likes me but doesn't know why Hima back out from the engagement at the last moment. Shoba advises him to make Hima jealous by getting closer to other girl and if she loves you then she will come to you other she doesn't love you. She thinks Nirupam will come closer to her. She asks how is her idea. Nirupam says it's a good idea and I will follow it. Jwala comes there and asks Nirupam to give her the box. Nirupam asks her where is Hima. Jwala tells him she is outside. Nirupam takes her outside holding Jwala's hand.
Hima feels happy seeing them. Nirupam signs Shoba that he is doing it. Shoba thinks about why he understands in this way. Shoba shares with Swapna how Nirupam flopped her plan and we need to take Jwala seriously otherwise she may take Nirupam. Swapna asks Shoba to not give any chance to Jwala and asks her to do something. Shoba tells her she will make Jwala leave the city.
Episode ends.
Precap – Hima joins Nirupam and Jwala in the restaurant. Nirupam feels his trick is working.