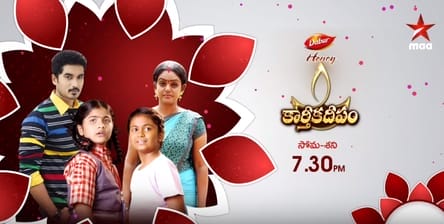 Karthika Deepam 27th May 2022 Written Update on TellyExpress.com
The episode starts with Swapna asking Shoba to do something against Jwala before it goes out of their hands. Shoba says she will plan to make Jwala leave the city. Swapna says Nirupam is soft that's why I'm worried for him. Shoba assures her she will take care of Nirupam's future and asks her to not worry about him. Swapna agrees.
Hima meets Anand. Anand asks why she didn't come these days. Hima says because of some work. She asks If Jwala is coming to meet him. Anand says no and she is sent money with Durga Anna. He asks if she also avoids him. Hima thinks you're my brother and I will tell you once the time comes. Jwala comes there and notices Hima giving money to Anand. Jwala thinks about why Hima is showing so much concern for Anand. She leaves from there.
Indrudu tells Chandramma that he gets to know that Swapna is the one who burns the auto of Jwala. He makes Swapna tire gets punctured. They go one by one and charge a high amount from her for changing the tire with their play.
Jwala sees Nirupam's photo on the mobile and thinks she will make his Mom agree to their marriage and once we get married your Mom can't me call as auto call. Jwala receives Seth's call. She tries to go out informing Chandramma. Chadramma asks her to leave after eating the food. Jwala thinks work is important and leaves from there telling her she will eat once she returns home. Chandramma thinks Jwala's future husband is lucky as Jwala is a pure soul.
Prem meets Hima and tells her he wants to talk with her. Hima agrees. Seth calls Jwala and asks her to come soon. Jwala agrees but noticed her clutch wire is broken. She sets it with another wire. Nirupam comes there and thinks Jwala is a hardworking person. He meets Jwala and tells her that he likes her and her courage. Jwala smiles. Jwala receives Seth's call and tells him that she is coming. Nirupam asks her to refuse Seth's work and come with him. Jwala says she gave her word to Seth. Nirupam tries to take her phone telling her he will talk with Seth.
Jwala takes the phone from him to stop him from seeing her wallpaper. Jwala calls Seth and informs him that she is sending another auto. Nirupam asks Jwala to call Hima to their regular restaurant. He thinks to know why Hima refused to marry him. Jwala calls Hima and invites her.
Episode ends.
Precap – Hima joins Nirupam and Jwala in the restaurant. Nirupam orders Icecream for Jwala. Jwala tells him she likes it. Hima orders hot soup. Nirupam feels his trick is working and Hima is burning in jealousy.