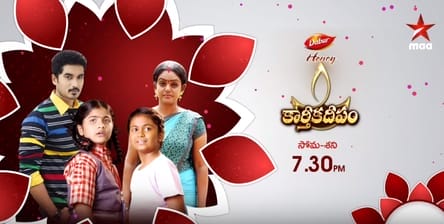 Karthika Deepam 27th October 2020 Written Update on TellyExpress.com
Episode starts with Deepa asks why Soundarya looks Disturbed. Soundarya says it's Mounitha tension and tells her what happened on road and Says Mounitha is waiting for opportunity to trap Karthik and previously Karthik tried to marry Mounitha in frustration and this time he is again in frustrated mood, Mounitha started her game to use Karthik frustration.
Deepa says Mounitha is not getting scared seeing you so she started playing her games and involving in our matters, I know how to handle her but I'm stopping myself seeing Karthik. Soundarya says we have to avoid Mounitha matter at this time and it's testing time for our patience.
Sourya brings Hima to them and says that Hima us sitting alone and I forcefully bought her here. Deepa says she wants them to take out. Hima asks her to take Sourya. Soundarya and Deepa asks Hima to be like before, and says that staying alone can raise more questions and asks her to think that they are one family. Sourya asks for ice-cream.
Soundarya says it's not good at this season. Hima says we can have it at this season too, I learned many things which Sourya have to know. Deepa asks her to don't think these things and ask them to get ready. Sourya says Anji went somewhere. Soundarya says she will arrange another driver and ask them to get ready for their outing.
Murali Krishna buys apples. Vendor asks what happened that he is buying apples this time. Murali Krishna says Karthik allowed Deepa to their home. Vendor gives more fruits and asks him to give to Deepa as his gift. Murali Krishna feels happy and sees Karthik near that place and asks how is he. Karthik signs ok and asks whether he is going to meet Deepa.
Murali Krishna says yes. Karthik says your daughter is coming between me and my daughter. Murali Krishna says she is trying to support you. Karthik says Hima got to know that Deepa is my wife. Murali Krishna says it's happy news. Karthik says what's happy in it?
My daughter questioned me why I raised her when I have Sourya, that answer is still pending, I have to answer her, I told you to tell the truth to Feels before our marriage but you didn't informed her but because of it her character is revealed and what will you do if you're in my position? Will you reveal this garbage truth to Hima?
Take your daughter to your place for one month than neighbors will ask why she is staying at your place when she is married, than what will you tell them when they questioned why I left Deepa. Murali Krishna says I can't talk like you but my daughter is fire and even fruit vendor can know the value of Deepa but as her husband you failed to understand her, why your family is supporting Deepa? If she is wrong, think about it and he goes and returns all fruits to Vendor and says to Karthik that he is not going to his place because he understood how Deepa is living in his place and leaves in his scooty.
Shravya asks why Deepa sister came to our house suddenly. Aditya says maybe she came thinking my brother won't change. Shravya says their is something because Deepa is loving Hima more than Sourya. Aditya says Hima only listen Sister in law words that's why showing more love.
Shravya says my sister is bearing Karthik hurtful words for Hima and she lives with self respect but these days it's changed, I feel their is some hidden reason. Aditya asks her to know the matter from Deepa, she agrees.
At hotel Mounitha gets files from Orphanage and says that week noone get adopted and their is no accident cases too like you mom informed you. Karthik says from where his Mom bought Hima. Deepa, Hima, Sourya reaches to same hotel and Sourya shows them to her Mom.
Deepa feels irritated seeing Mounitha with Karthik. They sits near one table, Mounitha shows Deepa and asks him to get to know from Deepa. Karthik sees Deepa and about to say Hima but Mounitha tells him some plan.Karthim goes to their table and says to Hima that why she didn't asked him. Deepa says she didn't know that you roam with Mounitha.
Mounitha asks him to tell the matter. Karthik shows files saying Mounitha is enquiring every Orphanage for her parents. Hima thanks her. Mounitha says you have to promise me that you won't leave Karthik even after knowing about your parents. Hima agrees. Mounitha too orders ice cream for them and joins them. Deepa gets angry.
Precap – Karthik asks Deepa to answer from where his Mom bought Hima to home and asks whether she knows it. Deepa says she knows it. Hima goes to them.