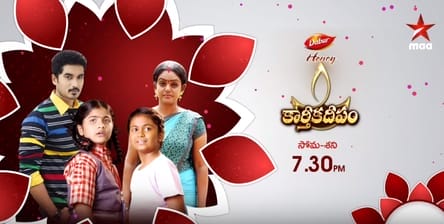 Karthika Deepam 28th October 2020 Written Update on TellyExpress.com
The episode starts with Soundarya asks Hima to sit near her. Hima says she wants to talk with her. Soundarya says I thought you will fight with me. Hima says now onwards Sourya fights for her rights, don't know why you didn't revealed Karthik is her dad until she found out the truth, why you didn't told her anything? Will they live like strangers? Soundarya says she don't have any answers and asks her to leave her.
Hima says these are questions by Sourya, now I want to know why Doctor babu adopted me when he have Sourya. Soundarya says don't say that you're Orphan. Hima says why will Sourya and Deepa living low life when they have a family like you, you're not saying anything to me because I'm outsider. Soundarya in tears says don't say in that way, I want to erase all your doubts with one word but that word is not crossing from me, it takes some time for me. Hima asks how much time. Soundarya says very soon truth will be out so don't ask me anything until then and leaves. Hima thinks what truths will be out on that day.
Karthik reaches to home and places Orphanage files in Soundarya lap and asks Didn't Deepa inform anything to her. Soundarya says Deepa won't bring waste news to home and asks him to tell the matter. Karthik says he didn't get Hima information from Orphanage and crime list and he questions Soundarya about Biological parents of Hima.
Soundarya says she didn't remember from where she got Hima and says he is responsible for Hima broken condition with his lies and asks him to bear it. Soundarya says I forgot Hima is Orphan after giving her to you but remembered that Hima is Orphan so it's your mistake. Karthik stops Deepa and asks her if she knows from where his Mom bought Hima to him. Deepa says I know it, she bought Hima from one mother and that orphanage is no more so i will become Hima mother and you will be her Dad so stop to search her Parents in Orphanages.
Karthik says I know you both are trying to hide truth, I searched everywhere but couldn't get details, so tell me from where you bought her. Hima sees them and says Vantalakka, did he asking you to leave from home. Deepa says No. Hima asks than why he is shouting at you. Soundarya says your Dad is telling us that he is planning to celebrate Vijaya Dasami Pooja at our home to know about your parents. Hima asks really. Karthik and Deepa agrees. Hima feels happy and says thank Doctor babu. Karthik gets hurt and leaves.
Soundarya asks why are you doing kitchen work when we have Malati. Deepa says I'm unable to bear Hima questions and Karthik irritating looks to me so it's better if I cook for my family. Soundarya says we have to invite Mounitha as special guest to our Pooja. Deepa gets shocked and says we can't call Mounitha like devil to pooja. Soundarya says this time Mounitha will bear the consequence, we have to call her to teach her a lesson and than she explains her plan. Deepa says if it's plan we must invite her. Soundarya says exactly, her game will end in the Dasara time.
Deepa goes to Mounitha home, which shocks Mounitha and she asks why she came to home and asks her to show what she bought in plate. Deepa says why you looks tensed. Mounitha says AC is not working. Deepa asks about Priyamani. Mounitha says Priyamani went to bought saree. Deepa says seems like I came in good time. Mounitha looks tensed.
Precap – Deepa slowly removes cloth from plate, Mounitha gets tensed thinking big it's gun.