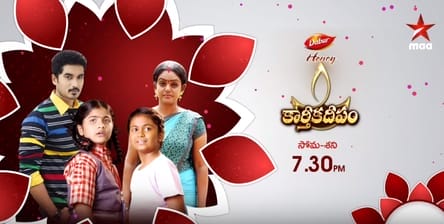 Karthika Deepam 29th October 2022 Written Update on TellyExpress.com
The episode starts with Vaani saying to Mounitha about Karthik and Deepa going to meet Sourya. Mounitha says that should never happen. Vaani raised her doubts asking Mounitha if Karthik and Deepa are husband and wife? Mounitha confirms her doubts and says they are husband and wife. Vaani asks what is the connection between Karthik and herself?
Mounitha says she loves Karthik more than anything. Mounitha opens and shares her story with Vaani and says how much she suffered to get Karthik. Mounitha shares her concern of losing Karthik. Vaani assures Mounitha that she will make sure it doesn't happen. Vaani says to Mounitha she will kill Deepa for free after hearing her story. Mounitha says there is no need for that and says she will offer 5 times the money that she offered before. Vaani agrees and tells Mounitha to prepare the money.
Karthik asks Deepa if she is preparing all these pastries for Sourya. Deepa says yes. Vaani comes and asks them what is he talking about? Karthik asks Deepa if Vaani knows the matter. Deepa says yes. Karthik asks Vaani why is she not helping Deepa. Vaani says she went out on work and now she will help Deepa. Karthik asks Deepa to get ready in the early morning. Deepa agrees. Vaani also asks Deepa to sleep early saying she has to get ready early tomorrow. Deepa says she will not sleep as she is going to meet her daughter tomorrow. Vaani tries to put Deepa to sleep.
Mounitha thinks of Karthik's behavior with her and gets worried thinking if Karthik recalled his memory. Mounitha later thinks there is no need for him to act if he recalled his memory.
Vaani tries to kill Deepa by pouring petrol on the hut and when she tries to light the hut. The Hut doesn't catch fire. Durga comes and clears her confusion saying what she poured is not petrol and says it is water. Vaani seeing Durga gets shocked. Vaani tries to leave. But Durga catches her. Durga says to Vaani that he is already suspicious of her from the beginning. Durga asks Vaani if Mounitha asked her to kill them. Vaani denies it. Durga says only Mounitha will try to kill Deepa. Vaani says she already tried to kill them once by putting poison in the tiffin. Durga says he will not leave her today.
Mounitha feels elated thinking Deepa might be dead. Mounitha gets shocked seeing Deepa normally doing her work. Mounitha calls Vaani to find out where she is. Durga comes and takes Mounitha's phone from her. Durga asks Mounitha if she is calling Vaani. Durga says he parceled Vaani to Kaveri's house. Durga says he also broke her bones. Mounitha says she doesn't care what happens to her. Durga says there is no need to play games and says Vaani revealed everything after he caught her red handed.
Durga asks Mounitha if he should tell Karthik about this. Karthik comes and asks them why are they talking about him. Mounitha takes Karthik's name. Karthik says he didn't forget his name and says if he can forget what he saw it will be good and leaves from there. Karthik leaves from there. Durga says he will not tell Karthik about this matter as Karthik will understand that there is nothing between us. Durga says he doesn't want that. Mounitha asks Durga why is he torturing her? Durga says what Karthik is doing is called torture not what he does.
Karthik asks Deepa if all these pastries are for Sourya. Deepa says yes. Karthik sees Deepa is very excited to meet Sourya and talks to her about it.
Episode ends.
Precap – Karthik and Deepa to go to Indrudu's house to meet Sourya. Indrudu invites them and introduces them to Chandramma. Chandramma says she knows Deepa. Indrudu says to Chandramma that they came here to meet the girl and asks Chandramma to take them. Chandramma agrees. Sourya comes out and gets surprised.