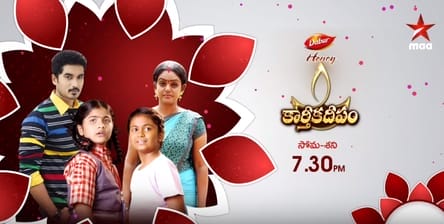 Karthika Deepam 2nd August 2022 Written Update on TellyExpress.com
The episode starts with Nirupam saying what happened to Prem and Hima and Prem acting as if there is a big lock outside. Prem takes Hima to a side. Prem explains why did he did it so that Nirupam and Hima can get together. Hima praises Prem. Nirupam and Sourya ask Prem to do something for them to get out. Prem makes up a reason and acts as if he is trying to hit the lock with a rock but to no avail.
Soundarya is worried about Sourya. Anandrao asks whether Sourya will come to the house or not. Soundarya gets a call from Hima. Hima tells Soundarya we saw Sourya. Soundarya asks her what happened. Hima says she will send them the location. Prem stops her and he says Sourya is not a position to come home now and Prem cuts the call. Anandrao asks let's go to eat he is hungry. Soundarya comments on it. They go to eat.
Nirupam asks Prem to break the lock. Prem says as we can't break the lock he asks both of them to stay here and he will bring specialists to break the lock tomorrow. Nirupam asks Sourya why did they kidnap her. Sourya says I once captured them to the police. Nirupam asks why. Sourya says when they were trying to run away after a theft in my auto. So I took my auto directly to the police station. Prem praises her and they go to a side to give Nirupam and Sourya privacy.
Shobha is frustrated that her plan failed and thinks of what she has to do.
Sourya feels hungry and Nirupam asks if she is hungry. Hima from the outside also asks if Sourya is hungry. Sourya orders mutton biryani with extra onions and Prem laughs at her as they couldn't get anything here. Nirupam asks Prem to get something. Sourya gives Prem money to get a plate of idly and he goes to find with Hima to get something.
Nirupam tries to sleep but he couldn't because of the mosquitoes. Sourya and Nirupam talk about it. Sourya says some people will do more damage than mosquitoes. Sourya says he has to feel everything and he also has to accept mosquitoes also. Nirupam comments on it. Sourya says just because you were hurt by mosquitoes you were feeling hurt but I was hurt and deceived by people. Nirupam thinks why has Prem did not come.
Prem comes and gives Veg biryani packet to Sourya and gives a bottle of water to Nirupam. Sourya eats the veg biryani.
Episode ends.
Precap – When Nirupam will sleep on the couch Sourya puts a blanket on him. He wakes up. Sourya says this might be new for you you can't adjust here. Nirupam says there is nothing like that if in her place there is Hima I can even adjust to even worse places than this. Sourya thinks Hima already took my place. Sourya goes to sleep in the floor.